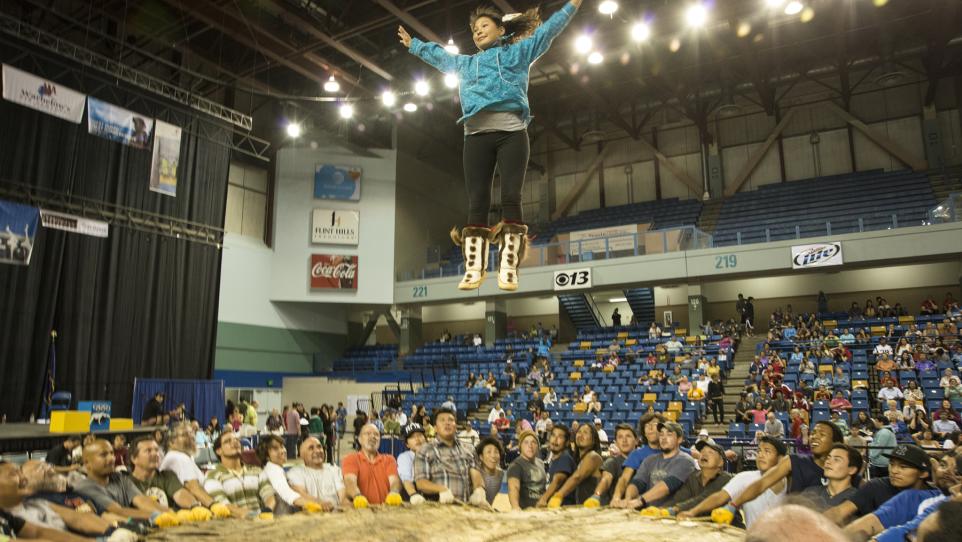 While the world looks to Tokyo for the 2021 Olympics, Fairbanks, Alaska is simultaneously hosting the 60th year of the extraordinary World Eskimo-Indian Olympics.
This July 21-24, Fairbanks' golden heart will beat a little faster when the World Eskimo-Indian Olympics comes to town. The energy filled games of the far north are simply amazing. Endurance, agility and a bit of magic are all in the mix when viewing the sporting events and the athletes going for the gold. The Alaskan high kick, knuckle hop and the four-man carry are just three of the many athletic events that boggle the mind. Imagine hopping on bare knuckles across an unforgiving floor…or flying eight feet into the air to kick a seal skin ball!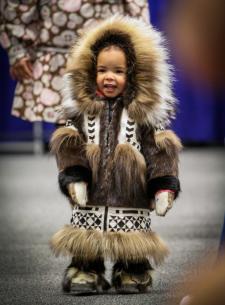 In addition to the extraordinary games are the pageant events, beautiful and gifted Alaska Native women steeped in cultural knowledge vie for a crown of walrus ivory and whale baleen. And the littlest, cutest toddlers enter the baby pageant, (perhaps it's the parents that do) and wander doe-eyed across the stage in fantastic hand-stitched garments made of moose and seal hide, embellished with beads and quills and exotic furs like wolverine and lynx.
Every July, Fairbanks hosts the World Eskimo-Indian Olympics (WEIO), a four-day series of competitions and dances. WEIO draws Native athletes and dancers from around the state, the United States and Canada, as well as visitors, fans and media from around the globe.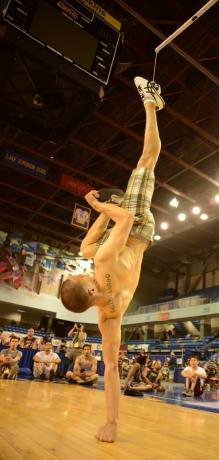 Although the events themselves developed over many years, WEIO was created in 1961 in response to the rapidly spreading impact of western culture into rural areas. Two bush pilots, the late A.E. "Bud" Hagberg and Frank Whaley, witnessed the Alaska Native games and dances in their village travels. They grew concerned that the traditional events would be lost as western ways seeped into the villages, unless steps were taken to preserve them. They helped organize the first event, which included a blanket toss, a seal-skinning contest, and a Miss Eskimo Olympics Queen contest.
The competitions at WEIO not only provide entertainment but give men and women the chance to demonstrate the skills that are needed to survive in a harsh and often unforgiving climate. For instance, fast yet careful fish cutters were sometimes needed to process a plentiful fish run before spoilage could occur. A walk on a birch pole slathered with bear grease was good practice for walking in precarious situations such as checking a fish wheel on the river. These two WEIO games are among many that leave no part of the body untested.
Besides being a test of strength and endurance, WEIO is also a time to celebrate indigenous culture. Parkas, moose hide dresses and vests, mukluks and moccasins are worn in competitive parka and Indian dress contests. It is also a time to dance and tell stories through songs and motion woven throughout the program. Traditional dancers perform throughout the four days of WEIO.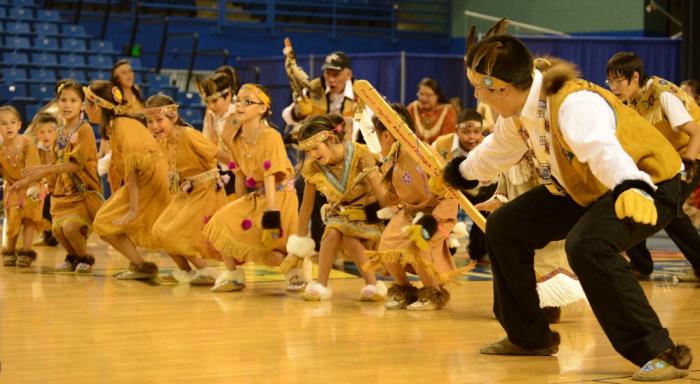 The event has since grown to more than 50 games with a significant number of athletes. For the competitors, WEIO is a chance to meet old friends and distant relatives, to entertain and be entertained, to challenge one another and to engage in friendly competition. The WEIO games are a powerful tie to Alaska Native heritage and a means of ensuring that their culture is celebrated and endures.
For visitors, it's a chance to see unparalleled feats of endurance and agility. It is also a chance to browse through booths of authentic Alaska Native crafts and meet the people who carved, sewed, wove or beaded the items. WEIO affords visitors the rare chance to experience a culture alongside those who live within it.
The WEIO games are held in Fairbanks on traditional Athabascan land. We respect this truth with the following Land Acknowledgement crafted by Denakkanagan elders:
"We respectfully acknowledge the Dena people on whose traditional lands we reside. We honor the Dena who have been the stewards of Interior lands and waters for centuries, the elders who lived here before, the Dena people of today, and future generations to come. We also recognize that Alaska Native people would traditionally gather here and harvest Native foods."
This year, we will broadcasting from WEIO on Facebook Live on Friday, July 23 at 12pm ADT/4pm EDT - take a moment to follow along. Every year WEIO coincides with Golden Days, Fairbanks' annual summer celebration of its gold rush heritage, providing locals and visitors an opportunity to participate in an impressive variety of activities.
---
If you go:
What: 60th Anniversary World Eskimo-Indian Olympics
When: Wednesday, July 21-Saturday, July 24, 2021
Hours: Daytime session: 10am; Evening session: 6pm
Admission: Daytime session: Free; Evening session: Adults $15, youth and seniors $10, children and elders, free.
Where: Big Dipper Ice Arena, 1920 Lathrop St, Fairbanks
More Information and event schedule: www.weio.org