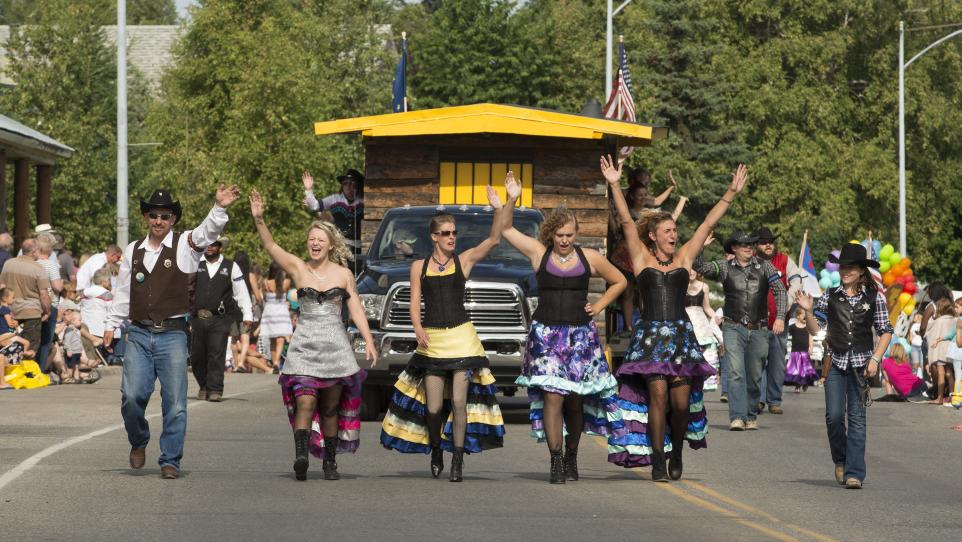 A community tradition since 1952
Each summer in mid-July, Fairbanks celebrates its golden roots with a truly authentic Alaskan celebration, Golden Days. During the weeklong festival, presented by the Fairbanks Chamber of Commerce and a multitude of community partners, Fairbanks takes a step back in time to honor its rich Gold Rush and pioneer history.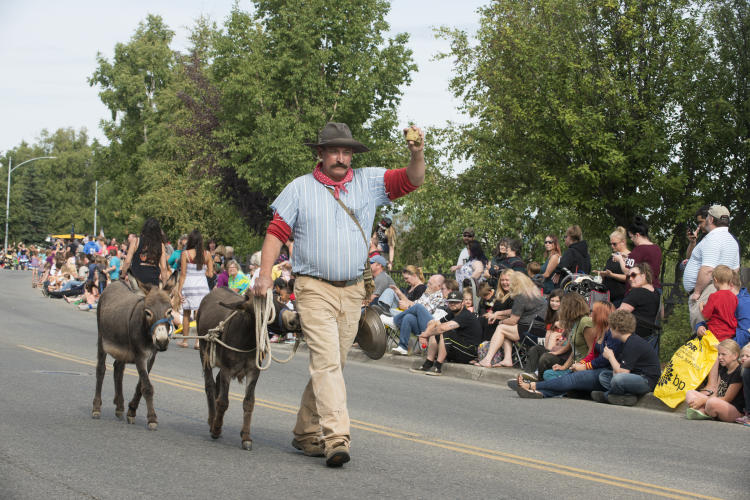 A prospector in the annual parade plays Felix Pedro, the Italian immigrant from Fanano, Italy that discovered gold near Fairbanks in 1902. [Photo: Greg Martin Photography]
A week full of things to do!
Family friendly and full of hometown pride, all of the Golden Days events should not be missed and should be on your list of things to do. They include the longest parade in all of Alaska, a rubber duckie race, ceremonies and a street fair downtown. This year's theme is "Call Me Gold Fashioned," so check out the events below and don't miss out on the golden opportunity to have some good ol' Fairbanks fun!

Participants in the watermelon eating contest take a bite out of Golden Days during the annual Old Tyme Games at Pioneer Park. [Photo: Greg Martin Photography]
Golden Days River Regatta
Saturday, July 14, 2018 at 11:00 a.m.
The annual flotilla starts at Graehl Landing (Map) and finishes at the Pioneer Park boat launch (Map). Unique, creative and full of fun, teams use unconventional materials like water jugs, duct tape, plywood and beer kegs to build and decorate a watercraft to make the leisurely float to Pioneer Park. Spectators line the Chena River to cheer on the mighty vessels. Bring a camera for this wacky and hysterical event!
Pedro Monument Ceremonies
Sunday, July 15, 2018 at 3:00 p.m. | Pedro Monument, Mile Post 16.6, Steese Hwy (Map)
This is the oldest event of Golden Days and is hosted by the Pioneers of Alaska. This public event will honor Felix Pedro at the very site where he discovered Fairbanks gold in 1902. Join in on learning about and honoring the man who uncovered the golden possibilities that put Fairbanks on the map forever. 
Old Tyme Games
Wednesday, July 18, 2018 at 6:00 p.m. (registration at 5:30 p.m.) | Pioneer Park (Map)
All are welcome to have some fun by participating in old-fashioned contests and activities at the annual Old Tyme Games. There's something for ages 4 to 104!
Watermelon eating (ages 4-7, 8-11 and 11-15)
Pie eating (ages 4-7, 8-11 and 11-15)
Balloon toss (ages 4-7, 8-11 and 11-15)
Water bucket brigade (ages 12 and up)
Log splitting competition (ages 18 and over)
Crosscut saw (ages 16 and up)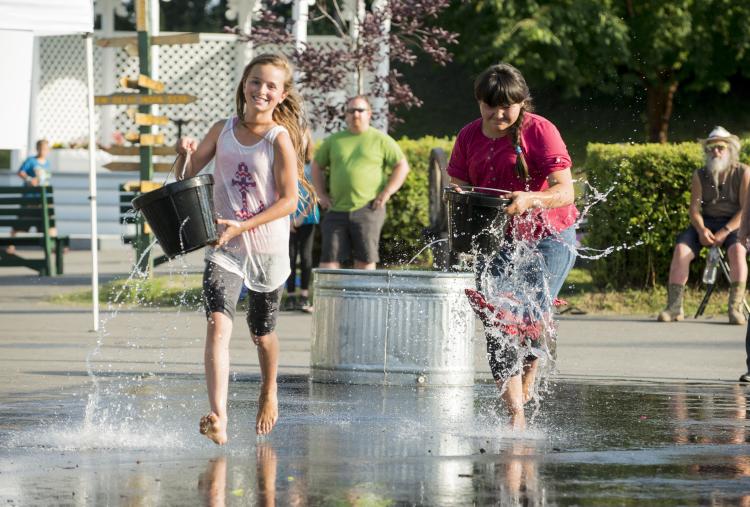 Young participants in the Water Bucket Brigade work to transfer water from one trough to another with a holey bucket...not getting wet is not an option! [Photo: Greg Martin Photography]
Pioneers of Alaska Regents Tea
Friday, July 20, 2018 at 1:00 p.m. | Pioneer Park Civic Center (Map)
Free and open to the public, be treated with a full tea service featuring famous pioneer homemade delectable finger foods, light-hearted entertainment and some Fairbanks history. Your hosts are the gracious ladies of Women's Igloo No. 8, who will be all dressed up in their Golden Days finery. This is a good event if you want to get an inside peek into the pioneering days of Fairbanks.
Run For Gold  
Saturday, July 21, 2018 at 9:50 a.m. | Aurora Energy Power Plant (Map)
The Run For Gold is a one-mile family fun run that kicks off the annual Golden Days Parade to support the Literacy Council of Alaska. Every runner will be entered into a drawing to win REAL GOLD. Find out more information and register here.
Kinross Fort Knox Grande Parade
Saturday, July 21, 2018 at 10:00 a.m. | Downtown Fairbanks
This is the pinnacle of Golden Days activities and the largest parade in Alaska! Hosting more than 100 entries, it includes marching bands, clowns, jugglers, antique cars, unicycle riders and floats. Line up along the parade route and witness some gold fashioned community fun!
Parade route in a nutshell:
Begins at the Carlson Center on 1st Ave which turns into 2nd Ave
Turns Right onto Barnette St
Turns Left onto 2nd Ave and crosses over Cushman St
Turns Right onto Noble St
Ends at Gaffney Rd intersection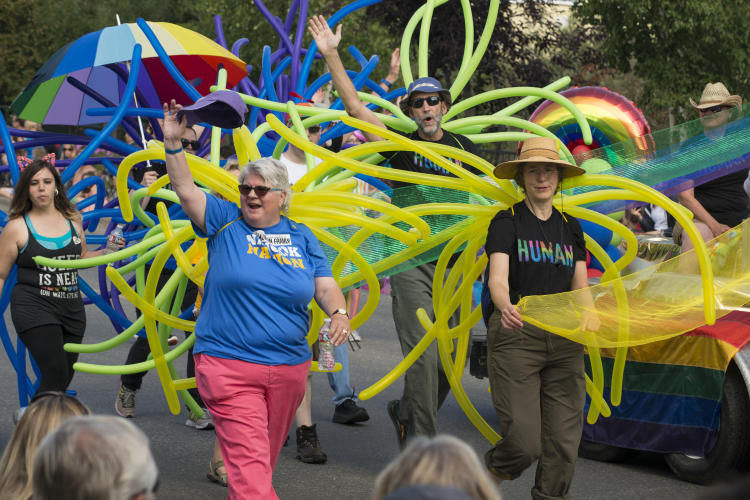 A community float makes its way along the parade route during the 2017 Golden Days parade. The annual event has the distinction of being the longest parade in Alaska! [Photo: Greg Martin Photography ]
Golden Days Street Fair
Saturday, July 21, 2018 from 9:00 a.m. to 5:00 p.m. | Golden Heart Plaza (Map)
After the parade, be sure to head over to the Golden Days Street Fair! From delicious food trucks to face painting, crafters to amazing entertainers, there's much to see and do. Browse a large assortment of local vendors or check out the petting zoo and pony rides. It's fun for all ages and a great way to spend the day downtown.
Rubber Duckie Race
Saturday, July 21, 2018 at 3:00 p.m. | Golden Heart Plaza (Map)
Each year, 8,000 individually numbered rubber duckies race from the Wendell St bridge to the Cushman St bridge, each carrying the high expectation that they are going to win lucky ticket holders cash and prizes. It's a wonderful, high-spirited spectacle and a Fairbanks tradition since 1988.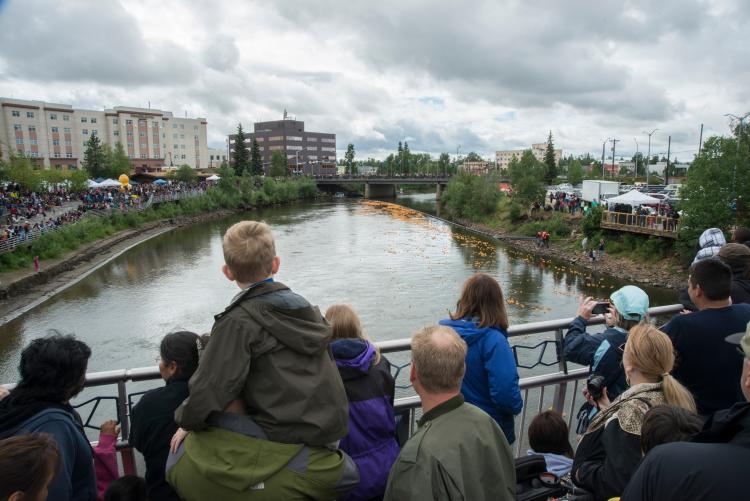 Thousands of people line the Chena River each year, from the Wendell St bridge to the Cushman St bridge, to watch the annual Rubber Duckie Race. [Photo: Explore Fairbanks/Hogue]
If you are going to miss Golden Days this year, have no fear, this event happens every year and always features fun entertainment, events and local community history. Mid-July is a wonderful time in Fairbanks because the World Eskimo-Indian Olympics and the Fairbanks Summer Arts Festival also take place during this time as well. Request a visitors guide for more ideas and information about planning your trip!
For more event information, please visit the Fairbanks Chamber of Commerce Golden Days page.