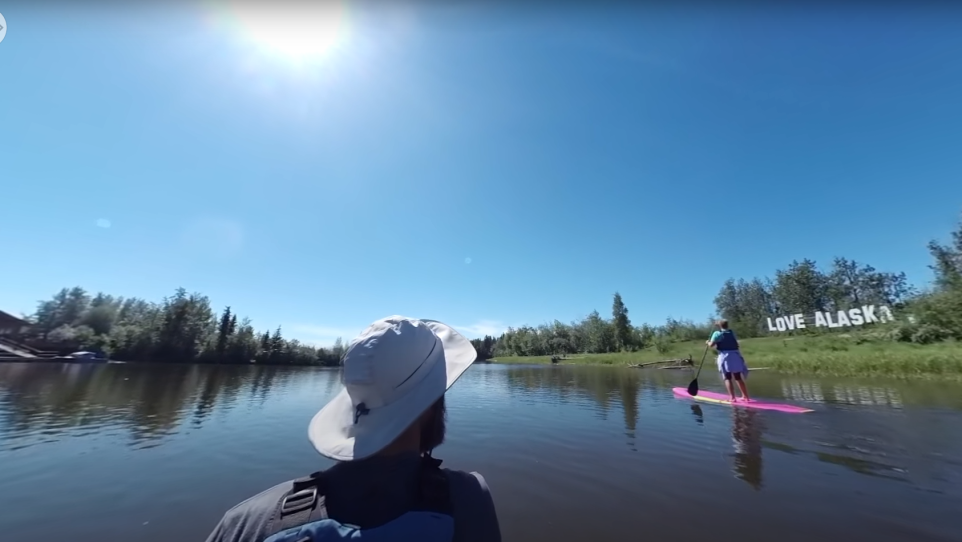 Start your Virtual Vacation Now
During these extraordinary times, a virtual tour is about as close as you can come to the real thing. With Explore Fairbanks' new 360° virtual resources, immerse yourself in 360° videos and still imagery of Fairbanks and Alaska's Interior using a VR headset or without. If using a headset while viewing a still image make sure you look up, look down and all around. If it's video, we encourage you to stand up to look around to get the immersive experience. If you are not wearing a headset when watching a 360° video or still images on a desktop computer, the viewing angle is changed by dragging the mouse. While using a smartphone, viewers can pan and rotate the 360° video's perspective to watch it from different angles either by moving the smartphone or by scrolling and pinching with a finger.
Dive into Five Brand New Virtual Views 
Be spirited away to a panoramic mountaintop view on nearby Murphy Dome during Midnight Sun Season.
Go on a virtual float down the Chena River in a canoe on a perfect summer day.
Visualize yourself in a sled pulled by a team of dogs down a snow-covered mushing trail.
Check out the spacious interior of the Morris Thompson Cultural and Visitors Center.
Immerse yourself in a view from a pedestrian bridge over the Chena River during a stunning winter sunset.
Immersive 360° Viewing Tips
Keep in mind that 360° videos are larger than normal video files and may take longer to load.
For the best experience, make sure you are using Chrome, Firefox, Safari or Internet Explorer browsers.
For videos, we recommend downloading the YouTube app for Android or iOS. This will allow the video to play automatically.​
Check Out More Virtual Views on our Explore Fairbanks YouTube Channel 
Grab a front row seat as you experience the midnight sun, the northern lights and popular attractions, tours and events. Here's where you'll also find our award-winning destination video, northern lights time lapses, Midnight Sun, Alaska Native Culture videos and more, as well as more iconic immersive 360-degree views.
Explore Fairbanks' immersive 360° stills and videos have the power to virtually transport you to Alaska's Golden Heart and actively explore content like never before. Sure, it might not be the same as being here, but it's the next best thing while you wait for your opportunity to visit Fairbanks when the time is right.
Want to see more of virtual Fairbanks? The University of Alaska Museum of the North has 360° images here.