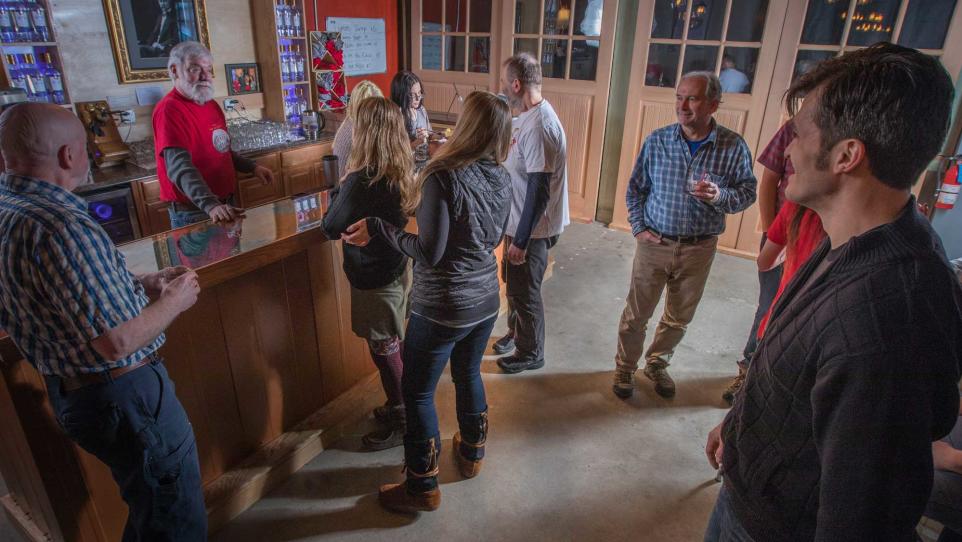 Summon the spirits with a visit to one of ten local breweries and distilleries.
Lift a glass and sip your way through ten locally owned breweries and distilleries in the Fairbanks area. Fresh, local ingredients combined with the entrepreneurial attitude of the Last Frontier has given rise to a whole new industry in Fairbanks. Ten. Yes, TEN, breweries and distilleries serving homespun libations have set up shop in the region. Lucky locals and visitors alike can enjoy an evening out while partaking in a wide variety of handcrafted cocktails and draughts. 
Each brewery and distillery has its own quirky character partly due to the fact that many have blossomed in unconventional spaces. Cool dwellings like a renovated roadhouse, Fairbanks' Old City Hall, an abandoned athletic club and even a farm that grows their own ingredients are examples of the industry's tendency to transform abandoned locations into hip and happening gathering places.
Looking for some food with your beverage? Some of the businesses feature robust menus offering delicious fare while others employ food truck vendors that fill the bill with tasty eats from a variety of cuisines. Visit all of the breweries and distilleries and find your favorites — from award-winning beer to ultra-premium spirits, you are sure to find something to wet your whistle and leave you singing a happy tune.
HooDoo Brewing Company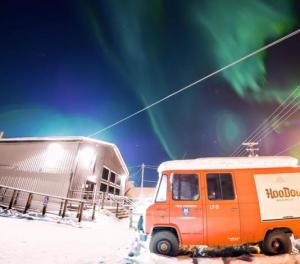 The wildly popular, small-batch, small-town focused HooDoo Brewing Company, named after the Alaskan mountains bearing the same name, takes the phrase "the ART of brewing" totally seriously. The diverse, winning crowd at HooDoo will attest to the painstaking process that yields enticing rewards. HooDoo Brewing Company is located right in the middle of Fairbanks and is easily accessible from anywhere in town. Their taproom is a great place to enjoy a fresh beer straight from the source. While they are probably best known for their Kölsch or American IPA, they have a variety of seasonal releases that please just about any palate. The proud owners of HooDoo Brewing Company offer free 30-minute tours on Saturdays at 4 pm.       
Silver Gulch Brewing and Bottling Company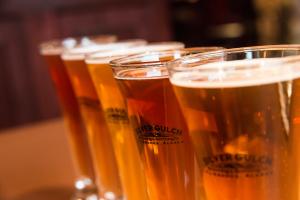 The Silver Gulch Brewery, housed in a delightful, historic roadhouse, is also a restaurant and full-service bar that's home to original, great-tasting beers. Northern Light Ale, Prudhoe Pig Stout, Coldfoot Pilsner and Fairbanks Lager, at Silver Gulch you can let the names speak for themselves. "Fairbanks, where the people are unusual and the beer is unusually good," Silver Gulch's clever slogan is fitting of the many quirky residents that call Fairbanks home. It also has the distinction of being America's most northern brewery. Silver Gulch Brewing and Bottling Co. has been in operation since February 1998 in the small mining community of Fox, Alaska, located about 12 miles north of Fairbanks on the Steese Highway. They offer brewery tours on Wednesdays and Friday during the summer and can accommodate tours during the winter by appointment.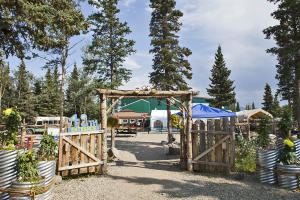 49th State's award-winning craft beer is brewed on-premises and can be enjoyed in the beer garden while playing lawn games, sitting by the bonfire or attending outdoor summer beer festivals. Their Healy location, just outside of Denali Park, is open in summer only and offers a full-service bar and restaurant. Whether ordering a yak burger, Alaskan-raised pork ribs or a local organic salad, the food can be paired with beers of several seasonal and year-round varieties. Visitors are also welcome aboard the replica bus from the popular motion picture "Into the Wild" to take pictures and see memorabilia on display.
Midnite Mine Brewing Company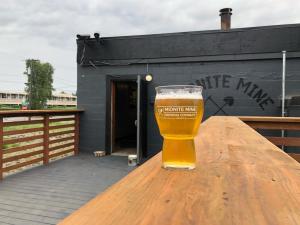 It's a new beer in a historic, popular downtown bar with a large patio near the Chena River. Housed in a friendly, community-focused taproom with a rotating guest tap list where lively stories are told by sourdoughs and cheechakos alike. The small-batch handcrafted Midnite Mine beer is certainly a welcome addition to the recently renovated, iconic, old school full-service bar. 
Black Spruce Brewing Company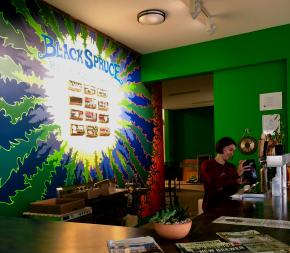 This relative newcomer, founded on the winter solstice, December 21, 2018, provides a rotating array of world-class, locally crafted beers served from a dozen taps. Art is front and center at Black Spruce, including a large eye-catching mural painted by local artist Klara Maisch. Black Spruce has hosted First Friday art events since it opened and the delightful tasting room is quickly becoming a favorite local hangout for fans of their wide-ranging brews.
Lat 65 Brewing Co.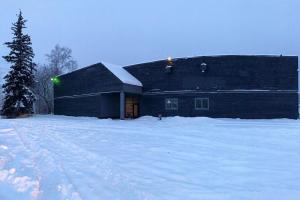 Lat 65 Brewing Co. officially opened in May of 2021 and offers a wide variety of beers and ciders that present something for everyone! Slated to become the largest brewery and taproom in Fairbanks, Lat 65 was forged by a seasoned brewer and two friends that wanted to create a "melting pot of greatness" for locals and travelers alike. Located just minutes from downtown Fairbanks, the brewery is a welcome addition to the Golden Heart of Alaska.
Ursa Major Distilling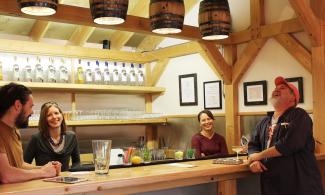 Ursa Major, whose name means "great bear" is a small independent distillery whose products are distilled using local barley grown in Delta Junction and is certified Alaskan Grown. Their stills were hand made by the distiller to produce exceptionally smooth spirits including Fairbanks Sourdough Rum (Alaska's 1st rum), Summer Harvest Gin and their flagship Long Winter Vodka. They have won awards with their spirits and whether you try a drink neat, on the rocks or in a fancy cocktail, the quality is unmistakable. They also make an assortment of Alaskan rum jams - a perfect gift or souvenir from the far north. Ursa Major's tasting room provides friendly and informational tours by request.
Fairbanks Distilling Company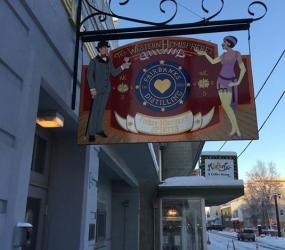 Fairbanks Distilling Company is an artisan distillery that uses all Alaskan sourced grains, berries, potatoes and other products to create delicious high latitude ultra-premium spirits. Their downtown location gives patrons a glimpse into the history of Fairbanks while sampling their handcrafted products that include internationally recognized and Gold Medal-winning vodka produced from potatoes. Located in the Old City Hall which was built in 1935 as a combination of City Hall, Police Station, Fire House and the seat of government for Territorial Alaska. Visitors can tour the fascinating building which is on the National Register of Historic Places. While visiting downtown Fairbanks stop in for a delicious drink served with a bit of history.
Hoarfrost Distilling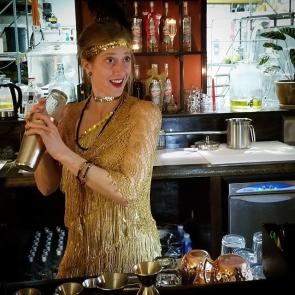 At Hoarfrost Distillery it seems like there is always a party going on. Cinco De Mayo, Prohibition Speakeasy Night, Mardi Gras and more…their cozy quarters are often the scene for special events and celebrations. Hoarfrost Distilling makes world-class vodka using barley and pure Alaskan water. You can try artisanal cocktails in their comfortable tasting room and take a tour of the distillery (call ahead for a tour). They serve a variety of cocktails—try an alpenglow (named after the orange-pink glow of Fairbanks sunsets) or rhubarb pie (made from a meticulously created secret juice).  Whatever you choose, you won't be disappointed.
Arctic Harvest LLC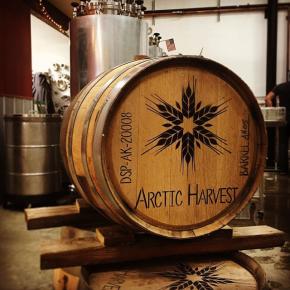 Arctic Harvest is a family-owned and operated farm distillery in North Pole, Alaska, dedicated to creating quality spirits from ingredients grown on the farm. In true pioneer spirit they do it all—from planting and fertilizing the field, to harvesting and malting the grain, and fermenting and distilling the mash. They are true farm-to-bottle. You can visit year-round for tours and cocktails, ski trails in winter, bird watching in the spring and fall and walking trails in summer. Located on 350 scenic acres the delightful farm is a wonderful place to indulge in a beverage and purchase a bottle to take home with you.
---
The primary feature of tasting and taprooms is a tended walk-up bar/counter where guests are offered small samples. In Alaska, samples are limited to 3 total ounces of liquor or 36 ounces maximum for beer and hard cider. You can also purchase full cans, bottles or growlers from the distillery or brewery to take home. You must be 21 or older to consume alcoholic beverages and state law limits tasting room hours, so call ahead or visit websites for more information.