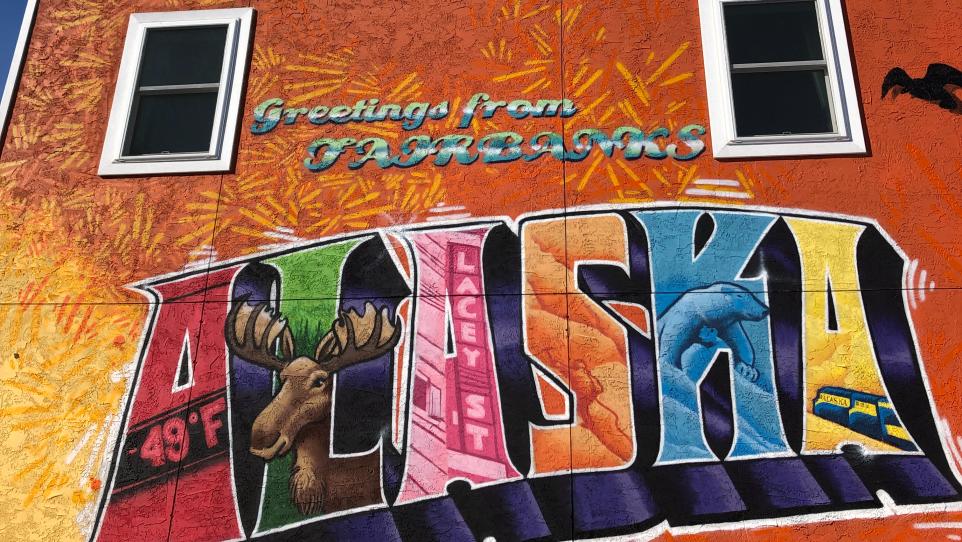 Ready. Set. Go! Pack your bags and hit the road—it's time to escape to Fairbanks, Alaska! An oasis in the wilderness, Fairbanks is an outstanding road trip destination. We are excited to invite fellow Alaskans to journey to the Golden Heart of Alaska and be wowed by all the cool things to see and do. Fairbanks is a dynamic blend of old and new—with historic buildings dating back to Gold Rush days, a vibrant contemporary art scene, an array of delicious eating and drinking establishments, sporting opportunities, museums, shops, and in the center of town, the iconic Golden Heart Plaza.
Make a beeline up the Parks Highway with a dazzling stop in Denali National Park where you can drive the Park Road to mile 30 this summer before continuing on to Fairbanks. Or you can "do the loop" and travel the Parks, Richardson and Glenn highways making a full circle around road accessible Alaska. Visit all the colorful towns along the way—as well as check out some remarkable "off the loop" destinations like Valdez or Talkeetna.
After you "Explore Local," use Fairbanks as a basecamp for even more road adventures. With loads of scenic campgrounds and RV sites Alaska's Interior and Arctic offer ideal places to get out and enjoy nature.
From Fairbanks you can:
Take the 56-mile outing from Fairbanks out Chena Hot Springs Road and go on a hike or a soak in a hot spring
Head out to North Pole "Where the Spirit of Christmas Lives Year Round" and say "Hi" to Santa
Travel out the Richardson Highway, go on an outdoor excursion and capture beautiful views of the eastern Alaska Range
Drive out the Steese Highway criss-crossing the Chatanika River and take in the sights along the way
Take a tour up the epic Dalton Highway into the wilds of the Arctic
Check out the PDF list of Explore Fairbanks' partners' current "Open for Business" status.
Find open businesses' current hours of operation, view Alaska resident discounts and see how establishments have incorporated COVID-19 protocols in order to make patrons safe and comfortable. Although the list is regularly updated, it is encouraged to contact businesses directly to confirm their status prior to a visit to any establishment.
Fairbanks is often called "River City" because of the 100-mile Chena River that runs through the heart of town. Here there are loads of family-friendly open-air opportunities: DIY floats down the Chena River, strolling around Pioneer Park, deck dining, accessible hikes, farmers markets, food trucks and more. If it is fishing that makes your heart sing Fairbanks offers anglers some excellent opportunities to wet a line. Grayling, rainbow trout, pike and sheefish are all popular catches in Interior Alaska's lakes and rivers.
Summon the spirits with a trip to one (or more) of Fairbanks' four distilleries and four breweries! Eclectic, high quality and fun the craft beer and cocktail scene is surprising and delicious. And don't forget our 20 plus Thai restaurants, copious coffee huts and a variety of home spun eateries all guaranteed to make your trip most appetizing.
In Fairbanks you can be inspired by over 20 art galleries, museums, Alaska Native heritage and historic sites. Fairbanks is brimming with artworks including large murals, remarkable sculptures, painted steam pipes and the farthest north Antler Arch. Flowers are also ubiquitous, landscaped urban areas plentiful and hanging pots adorn lamp posts and house porches.
Fairbanks is an excellent summertime destination. During Midnight Sun Season, April 22 through August 20, Fairbanks enjoys some of the warmest temperatures in the state, little rain and 24 hours of light for 70 straight days. All that everlasting sunshine gives way to a multitude of one-of-a-kind activities, attractions and tours. You can mingle with reindeer and musk oxen, go for a bike ride in the middle of the night, get lucky panning for gold, cool off in an ice museum, or take an invigorating nature hike and look for birds and wildlife.
Statewide friends let's all "Show Up" during this singular moment in time and discover some of Alaska's countless treasures. Regardless of which road you choose to travel to Fairbanks, we hope you reconnect with family and friends along the way and create some amazing memories right here in the Golden Heart of Alaska.  
Time to hit the road!