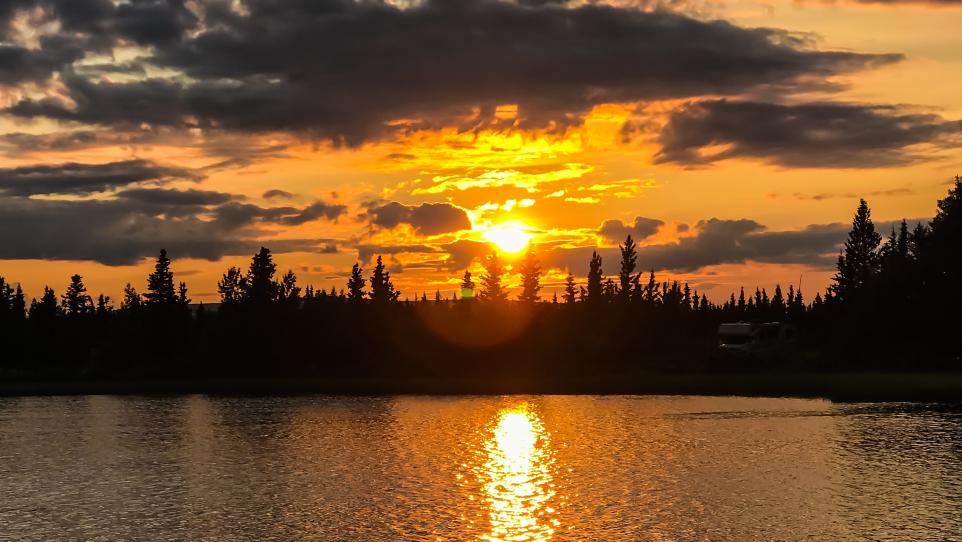 During the month of June, the Midnight Sun plays a starring role in just about every event. With the summer sun shining all day, there simply is no shortage of cool events that take advantage of Fairbanks having 24 hours of light! These one-of-a-kind activities include the Design Alaska Wild Arts Walk, a Downtown Block Party, the Midnight Sun Baseball Game, the Midnight Sun Run and the largest single-day event in Alaska…the Midnight Sun Festival. Of course, there's an abundance of other events on any given day of the year - First Fridays, outdoor concerts, sporting events and so much more - but this guide (in chronological order) is about the happenings that take advantage of the one and only star that dominates our night sky during this distinctive time of year.
---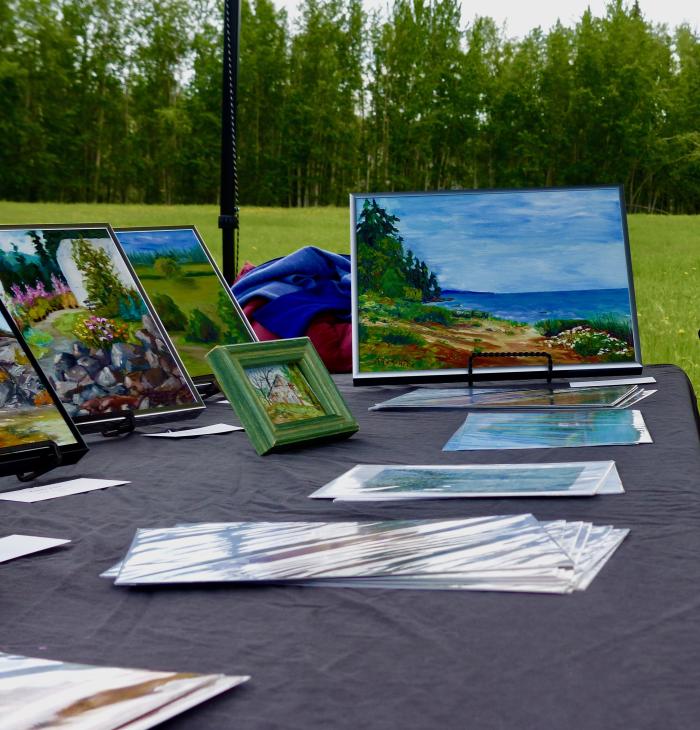 Design Alaska Wild Arts Walk
Kick-off Solstice week immersed in art and nature beneath the warmth of the summer sun. Be inspired by all the local works of art while walking the easily accessible trails through Creamer's Field where wildlife, birds and wildflowers abound. Vibrant green fields and talented artists await you and your family. Over 30 local artists will be showcasing and selling art of all kinds. You can find that perfect artwork to take home or find gifts for friends and family. Choose from one-of-a-kind paintings, birch bark creations, pottery, photography and more. The centerpiece of the Wild Arts Walk is the exciting "Quick Art" that takes place from 1:30-2:30 where the artists create works of art which are auctioned immediately afterward. Attendees will receive Design Alaska's gift of a collector's edition Creamer's Field art mug (one per family). Enjoy cookies and beverages for a $5-dollar admission. All proceeds support Friends of Creamer's Field year-round Education Programs as well as our wonderful local artists.
If you go:
What: 14th Annual Design Alaska Wild Arts Walk
When: Sunday, June 16, 2019
Hours: 12:00 p.m. - 4:00 p.m
Where: Creamer's Field Migratory Waterfowl Refuge, 1300 College Rd
Cost: $5 (proceeds support Friends of Creamer's Field Education Programs)
More Information: Call (907) 459-7307 or find information at http://www.friendsofcreamersfield.org/
---

Downtown Block Party
The Block Party celebrates the character of downtown Fairbanks and features up to 20 food and merchandise vendors, non-profit fundraising and live musical performances. This small, limited-entry event creates a pedestrian mall on 2nd Avenue between Venue and Lavelle's Taphouse. Free parking in the downtown parking garage is available from 5:00 p.m. to 9:00 p.m.
If you go:
What: June Downtown Block Party
When: Thursday, June 20, 2019
Hours: 5:00 p.m. - 9:00 p.m
Where: Downtown Fairbanks 2nd Avenue, between Venue and Lavelle's Taphouse
Cost: Free admission and parking (food, beverage and vendor items available for purchase)
More Information: Call (907) 452-8671 or find information at www.downtownfairbanks.com
---

Midnight Sun Baseball Game
The "high noon at midnight" baseball game originated in Fairbanks in 1906. Every year since then it has been the ritual to play the game on the summer solstice. The Midnight Sun Game tradition dates back to the earliest days of Fairbanks. During the winter of 1905-06, two local pubs bet on the game for bragging rights for the entire winter. From there, the novelty of the event led to outsiders being imported to take on the Fairbanks team. Nowadays, the game is played between the home team Alaska Goldpanners and another amateur team in the league; this year it's the Seattle Studs. The Midnight Sun Baseball Game has been held on Solstice for the past 114 years and has attracted national attention in outlets such as ESPN, Conde Nast and The New York Times. It's listed as one of Baseball America's 12 Must-See Events. The game begins at 10 p.m. and continues past midnight. Never once has artificial lighting been used for this striking event. During the course of the baseball game, spectators can watch the sun set and then begin to rise without the sky ever getting dark.
If you go:
---


Photo by Heather Taggard/49 Designs
Midnight Sun Run
The annual Midnight Sun Run celebrates its 37th year on Saturday, June 22nd. This quirky Alaskan event attracts more than 3,500 participants. At the starting line, look for the Kids Zone, the Out-of-Towners Tent and the Midnight Sun Run merchandise tent! Be the first person to register from your state for a chance to win Midnight Sun Run merchandise! There's live music, a Jazzercise warm-up and a Costume Contest. This year's costume categories include Alaska Frontier Days, I Love Music and Anything Goes. Walkers, strollers and serious runners hit the route at 10 p.m. cruising into and beyond the midnight hour. Not your typical 10K, the Midnight Sun Run winds through neighborhoods where locals host outdoor house parties to cheer on participants.
If you go:
What: 37th Annual 10k Fairbanks Daily News-Miner Midnight Sun Run
When: Saturday, June 22, 2019
Hours: Registration and Bib Pickup, 4:00 - 9:00 p.m.; Starting Line Activities, 7:30 p.m.; Race Start, 10:00 p.m.
Where: UAF Patty Center, 1890 Tanana Loop E
Cost: Children 12 and under are $15; General registration is $30 through June 17th; $35 through June 21st and $40 on race day.
More Information including tickets, racecourse, parking and shuttle bus details: Visit https://midnightsunrun.net/
---

Midnight Sun Festival
Held annually from noon to midnight on the Sunday closest to Solstice, the Midnight Sun Festival is Alaska's largest single-day event drawing up to 30,000 sun-worshippers. 1st, 2nd, 3rd and 4th avenues become pedestrian accessible only and downtown Fairbanks transforms into a huge street fair offering twelve hours of food, drink, merchandise, information and activities. Much like the light of the Midnight Sun, dancing, comedy, aerial silks, big band sound, orchestras, steel drums, jazz, folk and rock and roll create an atmosphere of endless, star-studded entertainment. The free festival is in its 38th year, but history proves that downtown Fairbanks has been celebrating Summer Solstice in a variety of ways for at least a century.
If you go:
What: 38th Midnight Sun Festival
When: Sunday, June 23, 2019
Hours: Noon-Midnight
Where: Downtown Fairbanks, 1st through 4th avenue
Cost: Free (food, beverage, amusement rides and vendor items available for purchase)
More Information: call (907) 452-8671 or find information at https://www.downtownfairbanks.com/
---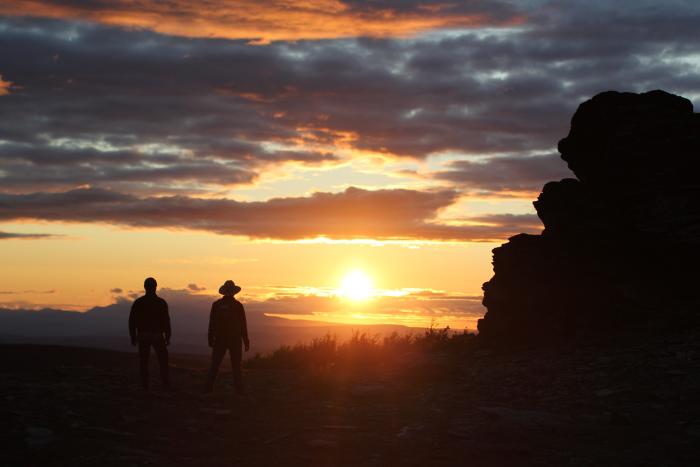 At our spot near the 65th parallel, where the sun barely dips below the horizon, Summer Solstice is celebrated with events as big as the sky that surrounds us. Join Fairbanks and people worldwide to bask in the sun and participate in these sunshine-inspired, middle-of-the-night events. Keep on shining!