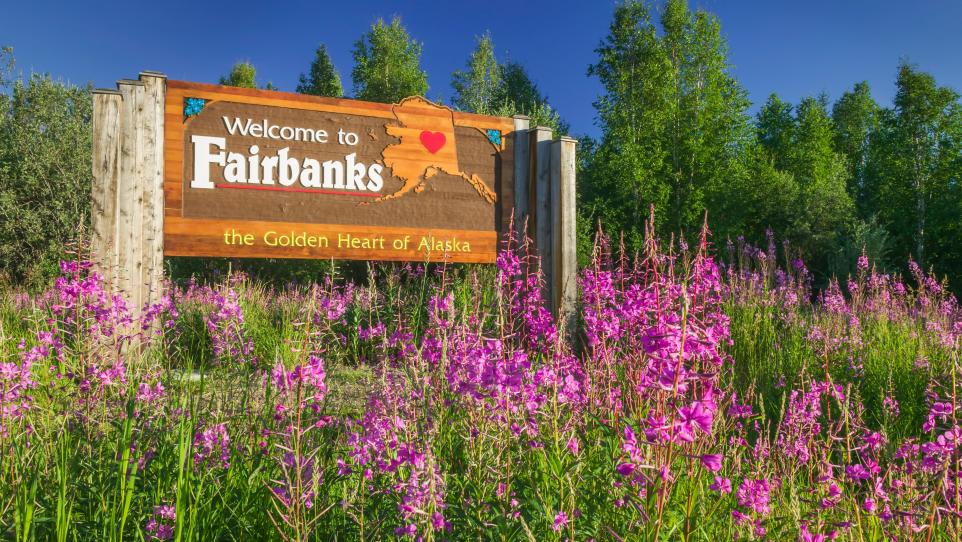 In Alaska's Interior and Arctic the caribou far outnumber the people. In Fairbanks, travelers can see how nature rules and people thrive in our little river city deep in the wilds of Alaska. Trumpeting the lowest population density in the United States of America, here a modicum of social distancing has long been a way of life. In and around town the buffer between you and the next guy in the far north was pretty substantial pre-COVID-19, we just pushed that a little and boom, we're all six feet apart. So sanitize your hands and don your mask and with a little careful planning and testing, embark on a journey to the land of the midnight sun and the aurora borealis.
Visit a vibrant farmers market, get lucky panning for gold, relish all the art in and around Fairbanks or head out Chena Hot Springs road to hike the boreal forest and view spectacular landscapes.
Fairbanks has many outdoor and/or spacious venues, activities, attractions, tours and eating and drinking establishments that have thoughtfully re-opened for business. Please view the PDF below for more information.
Find open businesses' current hours of operation, view Alaska resident and military discounts, and see how establishments have incorporated COVID-19 protocols to make patrons safe and comfortable. Although the list is regularly updated, it is encouraged to contact businesses directly to confirm their status prior to a visit to any establishment.
---
Summertime's everlasting sunshine unleashes all kinds of fascinating effects. All things green and growing undergo radical transformations leading to plate-sized dahlias, 300-plus-pound pumpkins, a plethora of veggies and ever-so-lovely hanging plants. Growers are also energized by the sun. They are out and about at all hours cultivating gardens and harvesting and priming vegetables for sale and display at local Farmers Markets. The local harvest is used by a wide variety of eateries as well as entrepreneurs who turn the produce into distinctive items for sale.
---
In 1902, that proverbial pot of gold was found in Fairbanks by Italian immigrant Felix Pedro. Tell-tale signs of Fairbanks' gold rush legacy include log cabins, sluice boxes, gold dredges and tailings, mining camps, roadhouses and more. The town has changed a lot over the last century but still has operating gold mines and embraces its colorful gold rush roots. Today, local attractions and fun-filled events celebrate the historic quest for gold. Visitors often go for the paydirt and get lucky panning for gold!
---
Art of all kinds abounds in Fairbanks Alaska. End of the road artists, Alaska Native people and pioneers are all inspired by the natural world and turn their visions of the far north into practical, visual and performance art. Woodworking, quilting making, ivory carving, skin beading, sculptures, paintings and more adorn Fairbanks public spaces and galleries. Take a walk around downtown and be spirited away by the whimsical murals beautifying local businesses and steam vent pipes.
---
Locals and visitors alike love the Chena Hot Springs Road area with a year-round resort at its end. Whether hiking Angel Rocks Trail, fishing for Arctic grayling, taking a therapeutic dip in the outdoor natural hot springs or indulging in an Appletini in a bar and museum made entirely out of ice, the area is brimming with extraordinary things to see and do.
During Aurora Season, August 21 through April 21, the Chena Hot Springs area offers desirable locations to chase the northern lights.
---
Explore Fairbanks Alaska! Where else can you travel to such a remote locale and still enjoy all the amenities of a charming downtown with a golden history, a thriving arts community, rich Alaska Native heritage, farm to table eateries and so much more?
We are waiting for you…. and when the time is right, we invite you to Explore Fairbanks and experience outstanding activities, attractions and adventures, all while observing current face covering and social distancing guidelines.