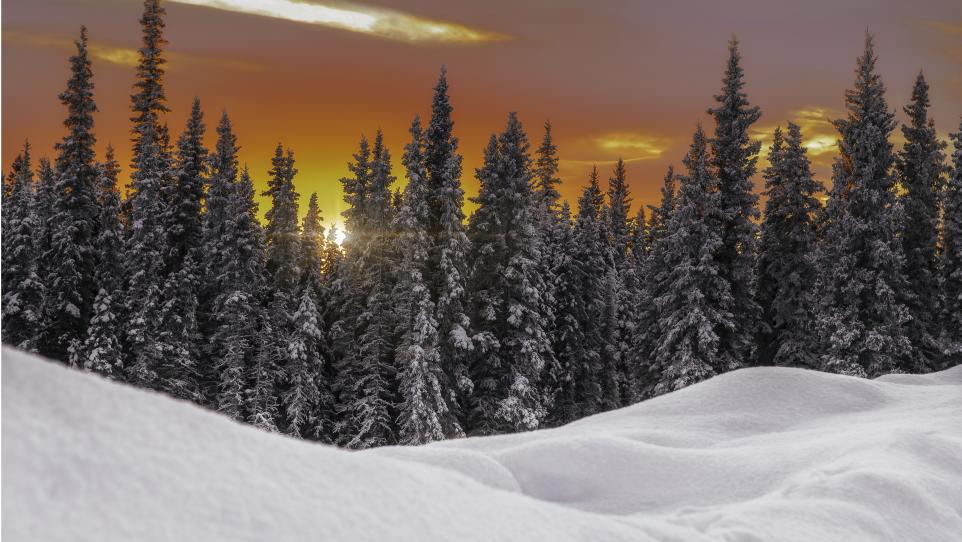 Winter takes center stage for five full months in Fairbanks, Alaska, and offers a plethora of extraordinary things to do. Mush a team of huskies? Check. Snowshoe through a winter wonderland? Check. Scan the skies for the aurora? Check. The list goes on. Fairbanks is like a trip inside a snow globe, so finding spectacular outdoor winter experiences is as easy as one, two, three!
1. Chase the Aurora Borealis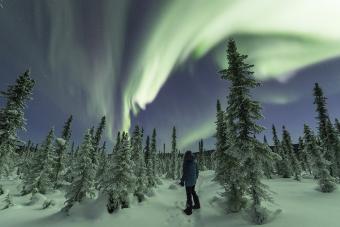 Fairbanks is one of the best places on the planet to view the northern lights and this awe-inspiring activity tops everyone's to-do list. We invite you to witness the magic and knock northern lights viewing off your bucket list. Be spirited away by the captivating light of the aurora borealis while you partake in a multitude of other spectacular winter activities.                                                                                                                   
2. Mingle with Reindeer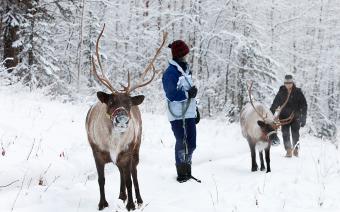 Fairbanks has plenty of ways to engage with Saint Nick's furry friends including walking with these majestic critters through the boreal forest or seeing them in various locations near Fairbanks. Or you can even pay them a visit in nearby North Pole – "where the spirit of Christmas lives year-round."                                                                                                                                                                             
3. Fish a Frozen Lake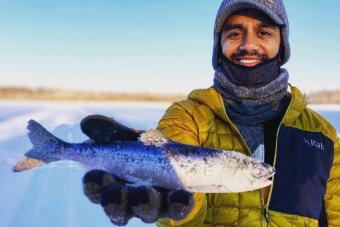 Drill down into clear lake ice, which can be up to four feet thick, craft the hole, drop your line and presto! It's dinnertime! Your fishing guide will help you catch chinook or coho salmon, arctic char, or rainbow trout. Some outfitters will even cook your freshly caught fish for you in a warm and comfortable ice hut on the frozen lake.
4. Go Inside a Glacier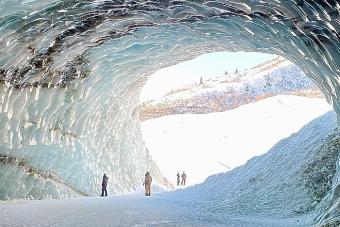 Yes, you heard that right…go inside a glacier. The Castner Glacier to be specific. Just a 2.5-hour pristine ride from Fairbanks, this amazing glacier cave will blow your mind. It does require a short hike (2.6 miles round trip) and a modicum of common sense…but the bragging rights are off the charts.
**Due to extraordinary melt on the glacier, the ice cave has experienced considerable collapse and looks drastically different than it is pictured within this blog post. Anyone visiting the glacier should exercise caution when approaching its terminus.                                                             
5. Snowmobile into the Wild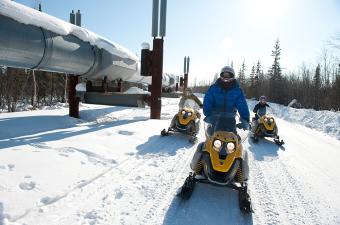 Riding a snowmobile, or "snowmachine" as it is most often referred to in Alaska, is one of the easiest ways to get into the spectacular snowy wilds surrounding Fairbanks. Get a local guide to outfit you, show you the ropes and experience the full throttle rush for yourself.
6. Watch Ice Sculptures Emerge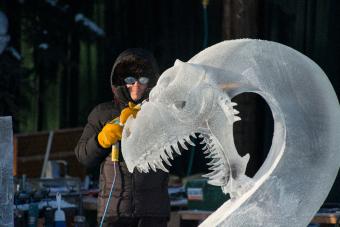 In Fairbanks, ice art is not only remarkable, but commonplace during winter months with sculptures found all around town. Visitors can watch incredible artworks emerge from huge blocks of ice as sculptors work with chain saws and specialized ice carving tools. Ice art peaks in February and March with two large ice events that include giant ice sculptures, ice mazes, ice slides and much more.
7. Traverse the Snow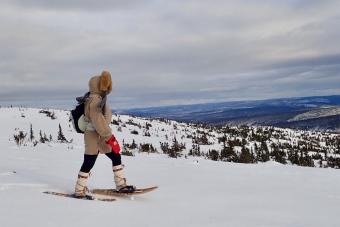 Get off the beaten path and view amazing winter vistas with an invigorating jaunt via snowshoes. Or hit the miles and miles of world class trails on a pair of cross country skis. Take in the pristine wilderness and embrace the winter days, when the striking silver-blue sky is often embellished with alpenglow sunsets and sunrises, sundogs or sparkling snowflakes.                                               
8. Soak in a Natural Hot Spring
Have a rejuvenating soak in a natural outdoor hot spring at the end of an adventure filled day. Relish the crisp winter air and the swirling northern lights above while your hair freezes in wild and wonderful ways. Let the healing, mineral-rich spring water relax your body and warm your soul.
9. Take a Roadtrip to the Arctic Circle or Denali National Park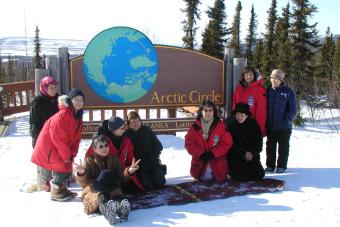 The Arctic Circle and Denali National Park are two iconic destinations easily accessible from Fairbanks. The Arctic Circle is 195 miles (315 Km) north of Fairbanks and Denali is 120 miles (193 Km) to the south. Both of these majestic places are reached via inspirational drives through extraordinary winter landscapes.
10. Mush a Team of Huskies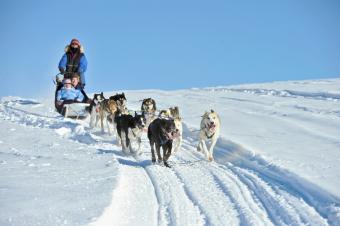 Alaska's sled dogs will champion the trail and win your heart…and getting into the backcountry by accessing Alaska's state sport – dog mushing – has never been easier. You can book a 30-minute jaunt, a half-day mushing school or a legendary journey with these four-legged athletes. Dog mushing is an exhilarating and soulful way to connect to the area's pristine natural world.                                               
Imagine yourself here and use this top ten list to plan an unforgettable winter expedition to our dazzling land of ice and snow. View or order a free Fairbanks Winter or Visitors Guide.