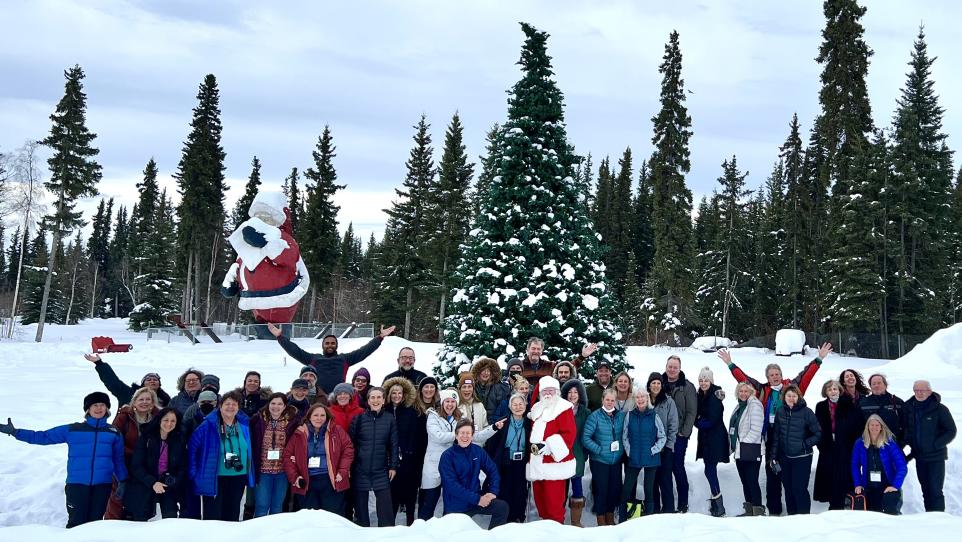 The Society of American Travel Writers group photo at the Santa Claus House in North Pole, Alaska. 
Photo: Bill Wright/Explore Fairbanks
---
From February 22-26, Explore Fairbanks hosted the Society of American Travel Writers Western Chapter Conference. The conference took place at Pike's Waterfront Lodge and was attended by 45 travel media from the Western half of the United States. During their whirlwind stay in Fairbanks, conference attendees participated in a plethora of activities to include aurora viewing, viewing ice art, dog mushing, visiting local museums, walking with reindeer, snowmachining and more; as well as excursions across the Arctic Circle, to Denali National Park, and Delta Junction. The conference also included professional development and lunchtime speakers featuring Fairbanks historian Dermot Cole, Reverend, Doctor and First Chief of Denakkanaaga Dr. Anna Frank, and UAF Geophysical Institute aurora researcher Don Hampton.
Photo Quest Images
One component of the conference was the Photo Quest where six photographers had 27 hours to capture Fairbanks imagery. Explore Fairbanks was able to chose one photograph from each portfolio to use for promotional purposes. Here is the collection of images we chose: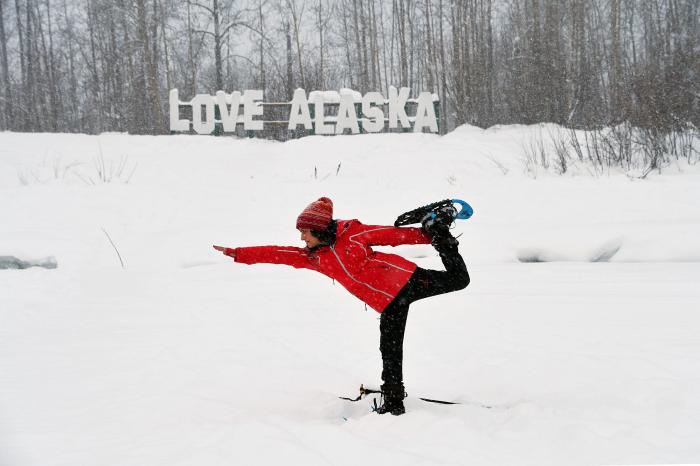 Winter wonderland! Walk across the frozen Chena River for an awesome shot of the Love Alaska sign.
Photo: Kari Bodnarchuk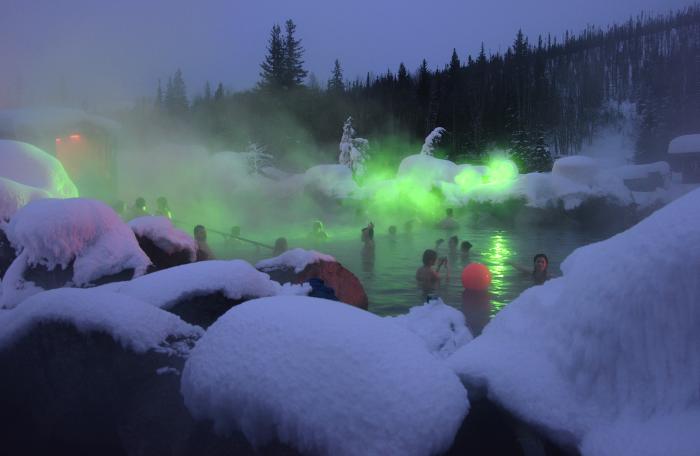 Winter is wonderful at Chena Hot Springs Resort where you can soak in the warm rock pool.
Photo: Marlene Goldman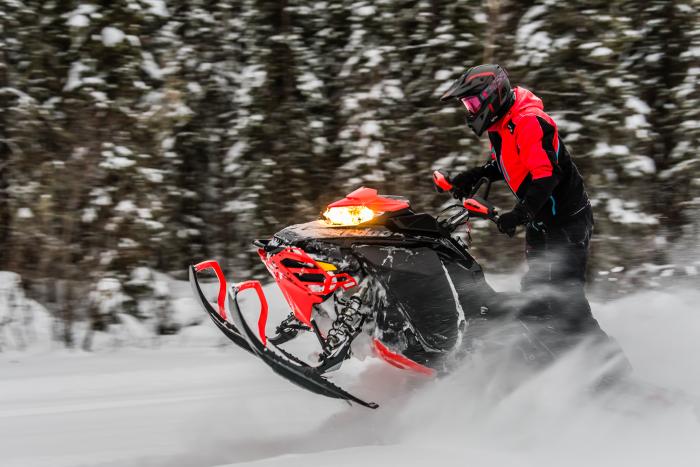 Winter fun never slows down in Fairbanks! Ride a snow machine to get in on the exhilarating action.
Photo: Blaine Harrington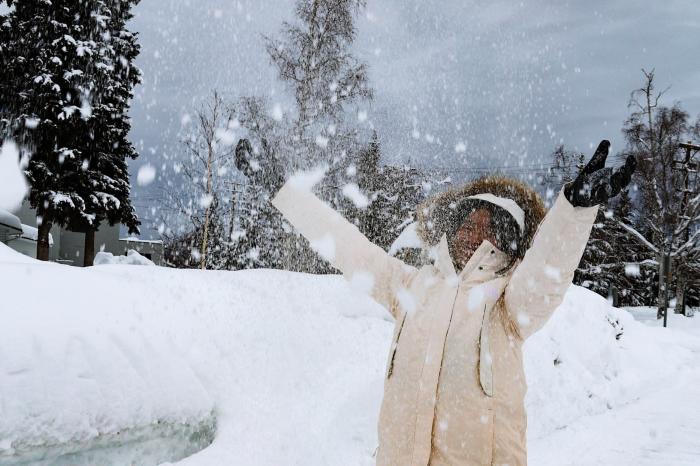 Snow much fun to be had in winter!
Photo: Sherry Spitsnaugle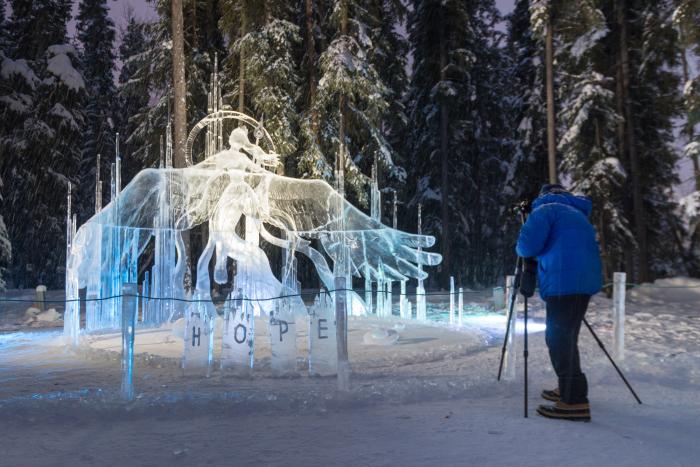 Ice Alaska is simply magnificent. You will be blown away by the larger-than-life ice sculptures that are painstakingly carved by artists from all over the world. 
Photo: David Swanson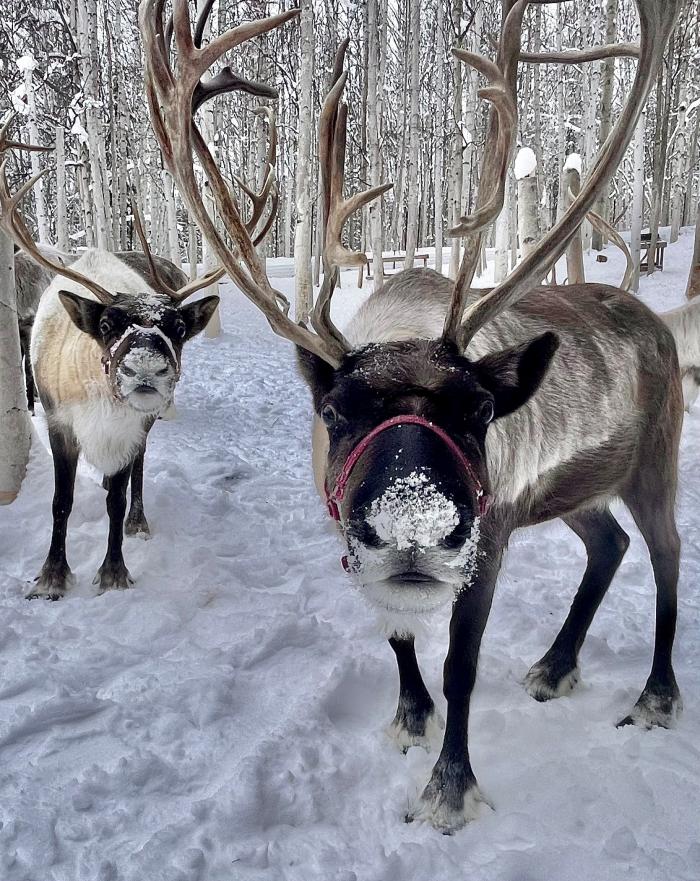 Reindeer fun! There's many opportunities in Fairbanks to spend time with these magnificent creatures. 
Photo: Carol Waller
The conference garnered rave reviews from conference attendees to include:
"Both during and after the meeting, numerous attendees told me that this was the best chapter meeting they have ever attended. Having personally attended 12-14 chapter meetings during my SATW membership, I fully concur. Your hospitality, planning, and warm welcome set the tone for a week filled with exactly the type of gathering that we strive for."
"I know every single person in our group left with a very positive impression of your beautiful area and the friendly hospitality of the locals that we met there. There will be some great stories coming out as a result and it was fun to watch all the activity on social media as attendees shared their adventures in real time.  Thanks again for the tremendous effort you, and all of your partners, put in to providing SATW with an unforgettable experience in Fairbanks. You certainly do your community proud!"
"I just wanted to write and THANK YOU all for doing such an outstanding job hosting the SATW Western Chapter for our recent meeting. You put together a terrific itinerary that showcased all the diverse and interesting aspects of Fairbanks and the experiences we had as a result certainly exceeded expectations. And how you managed to keep the temps moderate and have that amazing aurora show come out on the scheduled night? Wow, very impressive!"
It was an exciting and wonder-filled week for this outstanding group of media, photographers and content creators and we look forward to seeing the results of having this prominent conference in in Fairbanks.