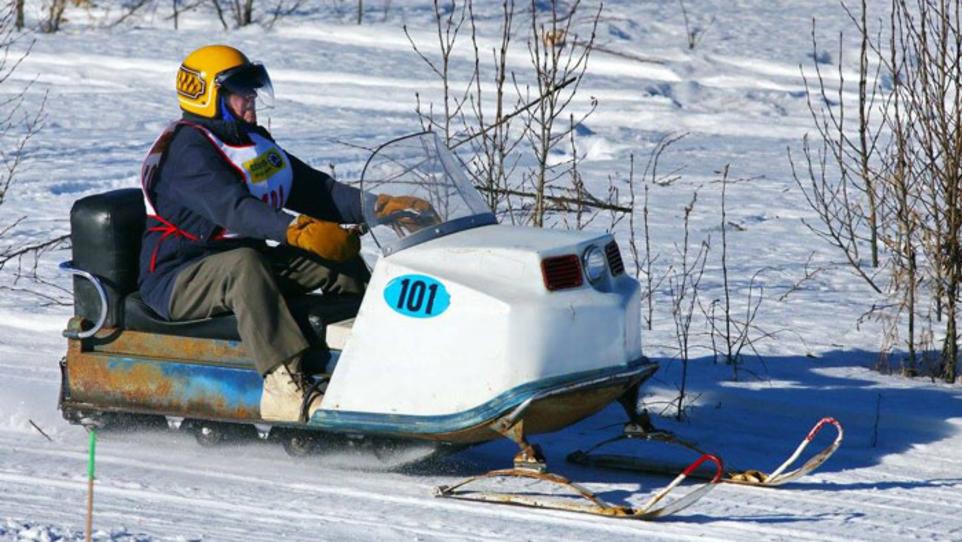 Snowmachines. Snowmobiles. Sno-Gos, Sleds or Snow-Flyers. Whatever you happen to call them, two annual Fairbanks events, the Iron Dog and the Fairbanks Tired Iron, do a great job of highlighting how much these machines are deeply rooted in our culture. 
The Iron Dog
First up is the Iron Dog, which is known as being "The World's Longest, Toughest Snowmobile Race." The Iron Dog is a team race consisting of two people with each person driving their own snowmachine.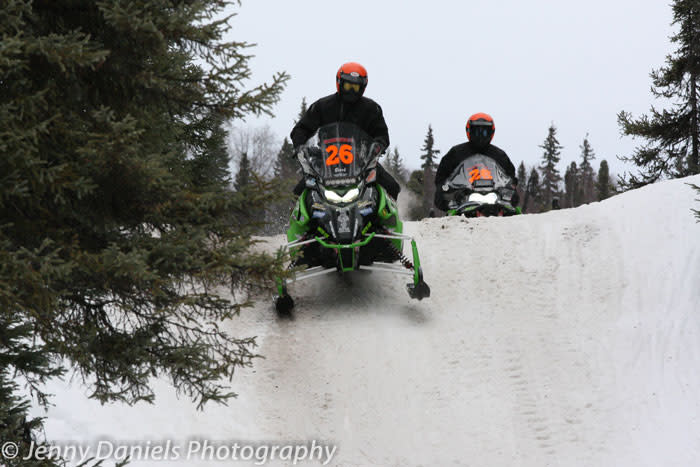 The race starts in Big Lake, AK (just north of Anchorage) and ends in Fairbanks along the Chena River about 6-days later. In 2018, 28 teams will traverse 2,031 rugged Alaska miles from Big Lake to Nome to Fairbanks, all while braving the subzero cold, bad visibility, and deep snow to push their snowmobiles and bodies to the limits to reach the finish line this weekend.
There are a plethora of rules and guidelines these racers need to follow to finish the race successfully, including first aid and safety, race support, fueling up at checkpoints and mechanical and equipment requirements. Racers can be tracked in real-time on the Iron Dog website. The finish line is also a great time to welcome these athletes and to see these highly technical, modern-day machines up close.

If you go:
Saturday, February 24 - The finish chute will be set up directly behind the Morris Thompson Cultural and Visitors Center, at 101 Dunkel Street in downtown Fairbanks. Starting at 10:00 a.m., there will be several vendor booths inside and outside to enjoy while waiting for the teams to arrive. Teams are held in the City of Tanana before Fairbanks in order to have the teams cross the finish line in a two-hour window for spectator viewing. Race enthusiasts are encouraged to use the Iron Dog Facebook page to post videos, photos, stories, or ask questions about the race.
The Fairbanks Tired Iron
On the other side of the spectrum of Sno-Go spectator sports is a much-loved community event, the Fairbanks Tired Iron. The Tired Iron is all about paying homage to throwback machines of yesteryear while making it fun for the whole family.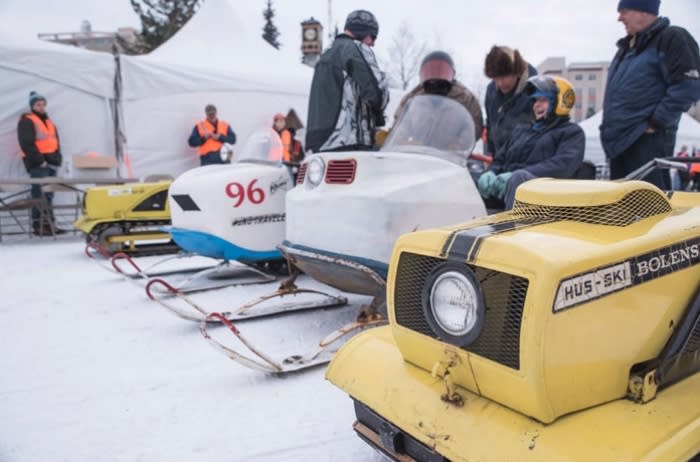 At its core, the Tired Iron is a series of races for vintage sleds of all makes, models and speeds. Race divisions include: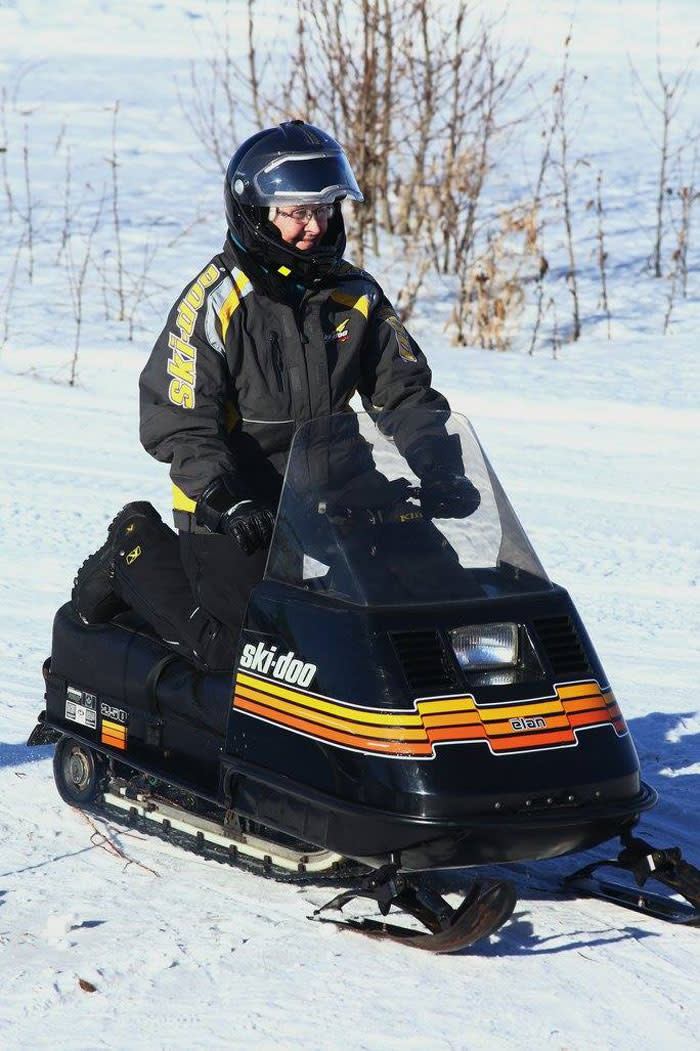 The Fairbanks Tired Iron is also very well known in the community for its outrageously enjoyable kid's events like Moose-"nugget" Human Bowling (pictured below), Ice Putt Putt Golf, Mini Arctic Man and the incredible Spring Ping Fling. The Spring Ping Fling is a special event where local firefighters, positioned high above the crowd on their ladders, drop thousands of orange-colored ping-pong balls down onto the children (ages 5-12) waiting with bags below. Some of the balls are specially marked for major prizes, like a new mini snowmachine, but every kiddo goes home with something.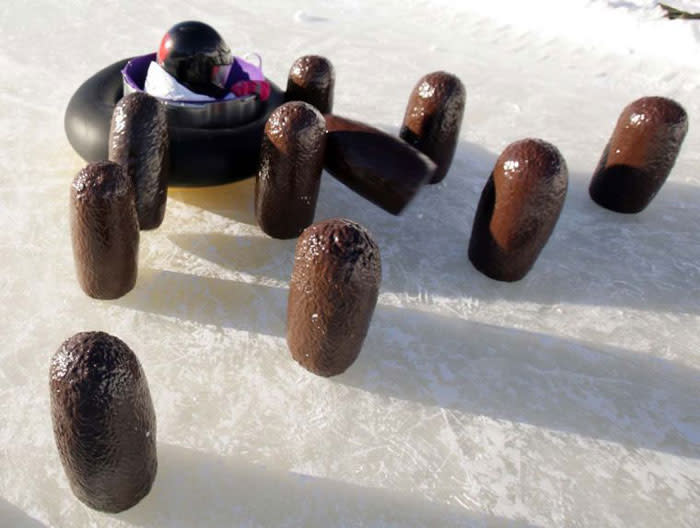 If you go:
The Fairbanks Tired Iron takes place over two weekends in March.
Sunday, March 18, 2018 - 10:30 a.m. – 1:45 p.m. – The Classic, Wet Iron and Heavy Metal races will take place at the Chena Flood Control Spillway, located on Laurence Road, near Chena Lake in North Pole. 
Saturday, March 24, 2018 – 10:00 a.m. – The Tired Iron Fun Run in the field at the intersection of Helmericks Ave and Herb Miller Blvd next to Fred Meyer East on Old Steese Highway. There's plenty of parking and this location is very close to public transportation. Here's a bird's eye view of the track.
Sunday, March 25, 2018 – 11:00 a.m. – 4:00 p.m. – The Jurassic Classic and Jurassic II races, Vintage Sled Show-N-Shine and the Kid's Fun & Games in the field at the intersection of Helmericks Ave and Herb Miller Blvd next to Fred Meyer East on Old Steese Highway. The popular Spring Ping Fling will start around noon.
The Boy Scouts will have hot food and snacks available at the venue. More information can be found at the Fairbanks Tired Iron website or on their Facebook page.
---
These iconic Fairbanks events are not only fun to attend and watch, but they just might rev you up to get in on the action! Take a tour through snow-covered spruce trees or along a wintery trail to a favorite aurora look-out point with a knowledgeable local guide. After a ride of your own, you'll easily see why these machines are such a fun and important Fairbanks pastime!