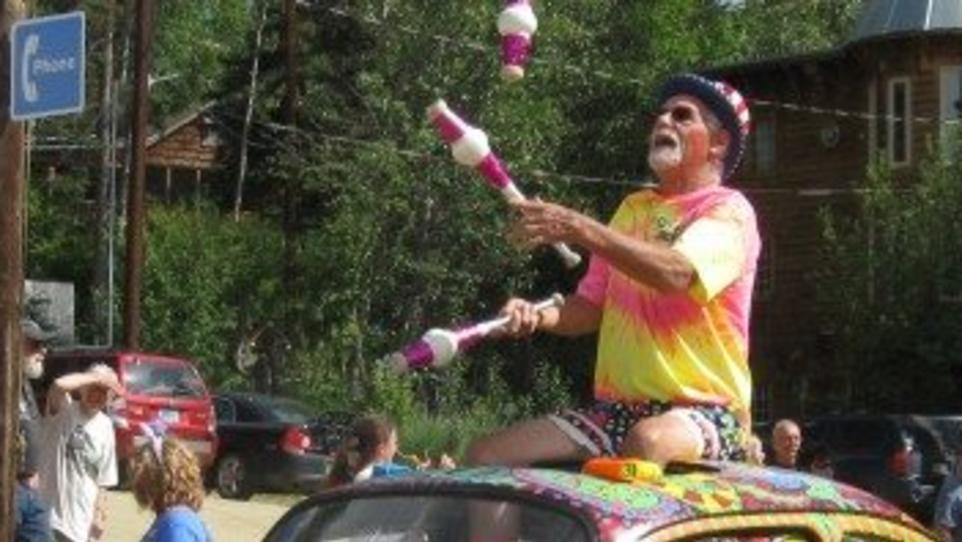 Alaska's Interior is bursting with fun and festive 4th of July celebrations. Here are four ideas to let freedom ring under the midnight sun. Whether it's the quirky community potluck picnic in Ester, the patriotic parade down Santa Claus Lane in North Pole, or the historic holiday celebration at Pioneer Park, these annual events demonstrate authentic American independence in the 49th state. If you're looking for a more serene salute to the land of the free, spend some time discovering one of America's scenic national parks.
---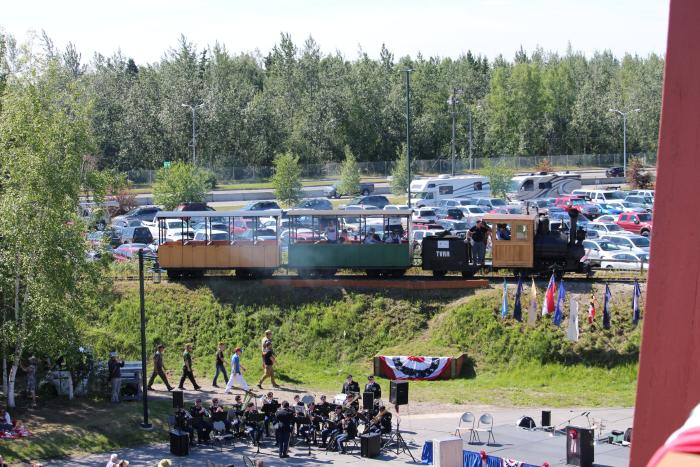 Pioneer Park 4th of July Celebration
This popular event kicks off at 1:00 pm with a formal flag presentation ceremony by local leaders and military officials. At 2:00 pm, the train engines begin running rides around the 44-acre park. At 2:30 pm, a colorful children's parade, led by the Fairbanks Red Hackle Pipe Band, winds through the streets of Gold Rush Town. Three prizes will be awarded for Best 4th of July-themed costume, Most Creative-themed costume and the Talk of the Gold Rush Town award. Children's games for ages 4 to 12 begin at 3:30 pm, with prizes for the winners of the Three-Legged Race, Water Balloon Toss, Tug-o-war, Sack Race and the Egg Race.
Enjoy live music performed all day throughout the park, concluding with the North Star Strings and Community Band Concert at 6 pm. Plus, the Pioneer Air Museum will host First Alaska Flight presentations and a birch bark canoe will be built at the Folk School Shop.
If you go:
What: Pioneer Park Annual 4th of July Celebration
When: Thursday, July 4, 2019
Hours: 1:00 p.m. - 8:00 p.m.
Where: Pioneer Park, 2300 Airport Way
Cost: Free entry (food and other items available for purchase)
More Information: Call (907) 459-1087 or find information at http://data.fnsb.us/parksandrecreation/pioneerpark/about/about.htm
---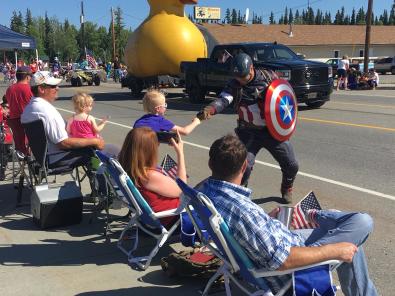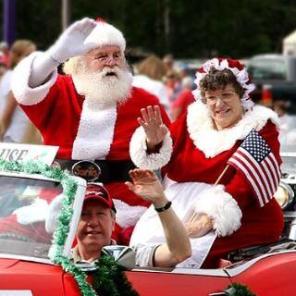 North Pole July 4th Parade and Festival
Start this one off with a hearty breakfast at 8:00 am! Santa's Seniors will be serving up delicious pancakes for the community until 10:00 am. The parade starts at 11:00 am, following float judging for categorical prizes. Don't forget to watch for Mr. and Mrs. Claus in the parade! The festival, with booths featuring food, games and entertainment from 11:00 am to 3:00 pm, is held at the end of the parade route in the high school parking lot. This year's festival theme "Winter is Coming" is a reference to the hit TV show, Game of Thrones, as well as an homage the city of North Pole's favorite time of year. The 4th of July festival concludes with a lively softball game from 1:00-3:00 pm.
If you go:
What: North Pole 4th of July Parade and Festival
When: Thursday, July 4, 2019
Hours: 8:00 a.m. - 3:00 p.m.
Where: Cary Street and Santa Claus Lane to North Pole HS
Cost: Free entry (food and other items available for purchase)
More Information: Call (907) 488-2281 or find information at https://www.northpolealaska.com/
---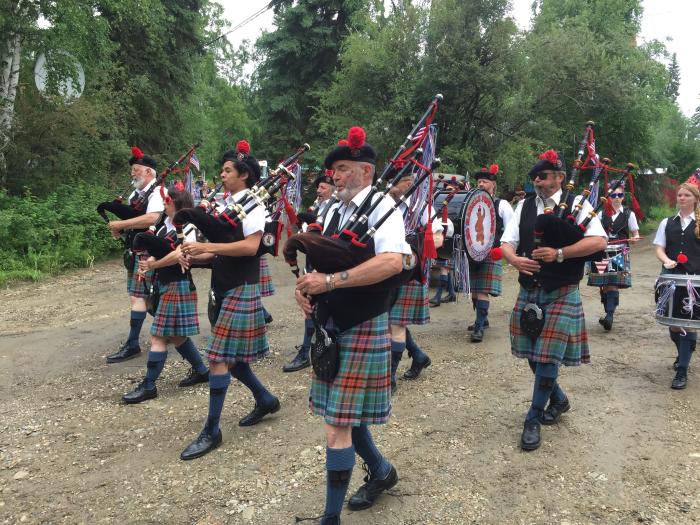 Ester July 4th Parade and Picnic
Considered Interior Alaska's quirkiest way to celebrate Independence Day, Ester's parade and community picnic is fun for the whole family! The parade begins at noon on Main Street and follows Village Road to the Old Nenana Highway past the post office and then on to Ester Park. Floats are judged by a panel of community members and they strongly encourage bribes! A newly donated Cuban-style roaster allows the picnic to feature a delicious pig. The potluck is a critical fundraiser for the Ester Community Association (ECA), as well as a great way to picnic. Bring generously sized potluck items to the community park immediately following the parade. In addition to a truly incredible pig, the ECA provides burgers and dogs. Donations above costs support the Ester Community Park purchase and operation. Suggested donations are $5 kids, $15 adults, $35 family. Limited food items are also available a la carte. There's live music and a great grassy field to enjoy fellowship and games.
If you go:
What: Ester 4th of July Parade and Potluck Pig Roast
When: Thursday, July 4, 2019
Hours: 11:00 a.m. - 4:00 p.m.
Where: Main Street and Community Park in Ester
Cost: Free entry (food and other items available for purchase)
More Information: https://estercommunityassociation.org/
---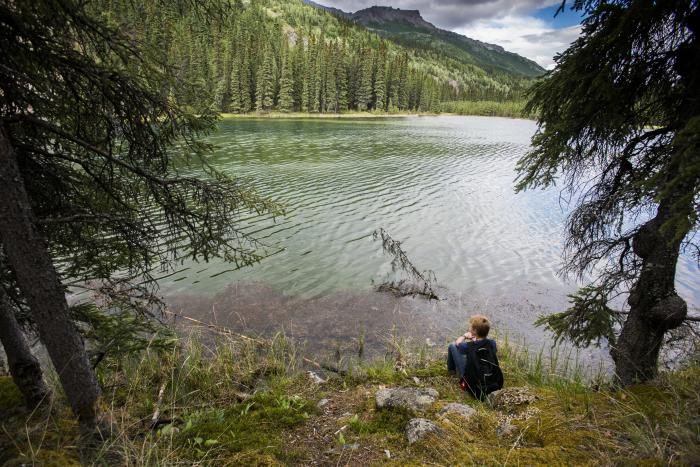 Celebrate 4th of July in Alaska's National Parks
Hiking, biking, birdwatching, wildlife viewing—America's majestic scenery is all available any time of year. Fairbanks is the perfect basecamp for exploring the stunning, unparalleled landscapes of the Last Frontier. Stop by the Alaska Public Lands Information Center at the Morris Thompson Cultural and Visitors Center to speak with National Park Service rangers about access and activities in and around these national treasures. Denali is a well-established park with tours and activities available to the more than 600,000 annual visitors. Gates of the Arctic and Wrangell-St. Elias are mostly vast and untouched wilderness with few or no roads, trails or established campsites. Visiting either of these world-famous parks will ignite a love for the great outdoors and leave you with a new appreciation for the freedom we can all enjoy!
If you go:
What: Celebrate Independence Day in Our National Parks
When: Thursday, July 4, 2019 (and everyday)
Hours: 24 hours
Where: Denali, Gates of the Arctic and Wrangell-St. Elias National Parks
Cost: Visit www.nps.gov for a complete list of park entrance fees.
More Information: Fairbanks Alaska Public Lands Information Center at www.alaskacenters.gov
Easily search for more events on the 4th of July and over the weekend on our events page: www.explorefairbanks.com/events