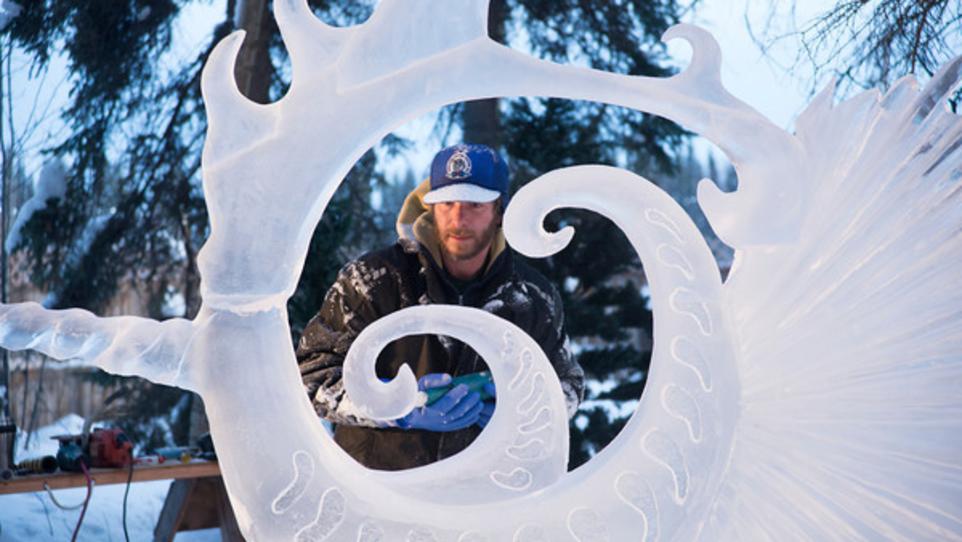 A note regarding the 2018 World Ice Art Championships: Ice Alaska, the organization behind the annual competitive ice sculpture championship will be taking a hiatus in 2018 and will be reopening in 2019. However, the fantastically fun Kids Park and an International Ice Art Exhibition will still be taking place, February 19 - March 31. With Christmas in Ice December 2, 2017 - January 9, 2018 and a multitude of impressive ice sculptures around the community, these sculpted masterpieces are still sure to delight!
---
In Fairbanks, ice art is not only remarkable but commonplace during winter months with sculptures found all around town. The making of ice art cul­minates late February through March, when the George Horner Ice Park hosts the World Ice Art Championships. The park will be open daily 10 a.m. to 10 p.m. through March 31, 2017. Held annually since 1988, the World Ice Art Championships features up to 100 ice sculpting teams from around the world. Approximately 45,000 visitors come to the Ice Art Park each year to see these intricately sculpted masterpieces.
Watch beautiful art works emerge from blocks of ice as the sculptors work around the clock. More than 70 teams and 100 ice artists from around the globe carve more than four million pounds of "Arctic Diamond" ice which is harvested from a lake located adjacent to the Ice Art Park. Ice freezes quickly and thickly in Alaska's Interior, and is clear enough to read a newspaper through a four-foot thick ice block. Sculptors claim that Fairbanks ice is the "finest on the planet for sculpting." Each Single Block Classic ice block measures approximately 2.5' x 8' x 5' and weighs around 7,200 lbs. The finished sculptures in the Multi-Block Classic contest can weigh as much as 20 tons and be over 25 feet tall.
In the center of the Ice Art Park there is a large designated Kid's Park, which is like any children's playground, only it is constructed entirely from ice. There are slides and rides for all ages, mazes and life-sized sculptures of animals, and characters to touch and climb on. The Ice Art Park also features an "ice stage" for various performances, ice skating rink, ice cabin, ice obstacle course and even a Slide-A-Mile challenge. 
Competitions will include the Single Block Classic, the Multi-Block Classic, the Individual Open Classic and the Youth Classic for high school students.
Climb atop a polar bear, slide down a dragon's neck or crawl through a giant maze. Ice art sculptures rival those wrought in stone and never cease to capture both the mind and the imagination.
To learn more about the World Ice Art Championships, go to icealaska.com.