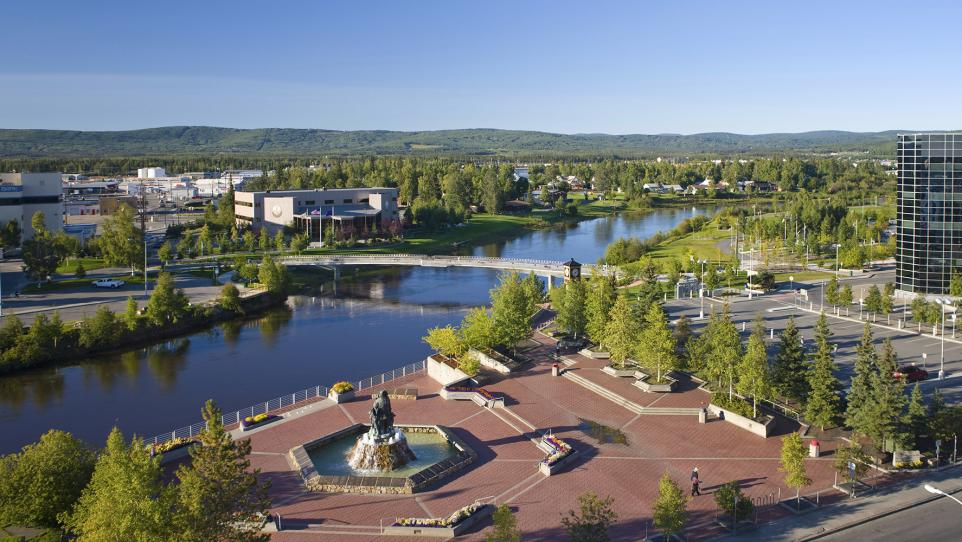 Explore Fairbanks extends a special invitation to locals to engage in all the incredible activities, attractions and tours generally geared towards visitors on their trip to Alaska's Golden Heart.
We invite Fairbanks to come together in spirit and "Explore Local." The current circumstances created by COVID-19 pose a threat to both fledgling and long-standing travel-oriented businesses alike. Although locals are always invited to partake in all the cool things to see and do in our river city, at this singular moment in time we are asking Fairbanks residents to gather up their families, get out and "Explore Local."
Fairbanks, the Golden Heart of Alaska, beats as one and the community-oriented visitor industry shows up for fundraisers, welcomes visiting friends and family and contributes to the overall health and happiness of this river city. Travel industry professionals are resilient and caring neighbors who truly appreciate other Fairbanksans as well as travelers from all over the world.
Check out the PDF list of Explore Fairbanks' partners' current "Open for Business" status. Businesses are adhering to State of Alaska guidelines and modifying their operations and open hours as necessary. Although the list is regularly updated, it is encouraged to contact businesses directly to confirm their status prior to a visit to any establishment. Look out for resident and military discounts.
"Explore Local" is an invitation to experience the outstanding activities, attractions and adventures local visitor industry professionals offer with ingenuity and pride—all while observing current face covering and social distancing guidelines.
You are invited to…
Rent a canoe, kayak or paddleboard for a DIY float on the Chena River, Tanana Lakes or Chena Lake recreation areas
Explore downtown and indulge in an excellent meal, handcrafted cocktail, beer or specialty coffee
Get lucky panning for gold
Stop by a farmers market and purchase locally grown produce and find a made-in-Alaska gift for yourself or someone special
Choose a favorite "To Go" meal from a homespun eatery or food truck and go for a picnic to one of the many local parks
Stroll around Pioneer Park, get a bite to eat and shop for locally made treasures
More "Explore Local" opportunities include…
Embark on a guided expedition above the Arctic Circle
Ask an experienced guide to take you to that perfect local fishing hole
Visit a dog mushing kennel and go on a hike with huskies
Go on a road trip to soak in Chena Hot Springs and enjoy hydroponically grown veggies
Rent a bike or ATV and challenge the streets or trails
Take a drive to North Pole, "Where the Spirit of Christmas lives year-round," and do some early holiday shopping
Be inspired by a visit to one of 20-plus art, culture and history venues, museums and galleries
Travel industry companies encourage you to "Explore Local." After all, you live in one of the most beautiful places on Earth, so why not indulge? Spectacular activities, attractions and adventures await you dear friends, neighbors and Alaskans from around the state. And when the time is right, we look forward to welcoming back travelers from all around the world.
Morris Thompson Cultural and Visitors Center
"Explore Local" Scavenger Hunt and Photo Contest
The Morris Thompson Cultural and Visitors Center has re-opened after an almost three-month hiatus due to COVID-19. Staff has worked hard to ensure your visit is as safe and fun as possible. As a result, operations at the Morris Thompson Cultural and Visitors Center will look different. For planning purposes, take note of the following changes:
Exhibits will be open to the general public 10:30 a.m.-12:30 p.m. and 2-4 p.m. daily.
Visitors must wear a face covering.
All available programming will be outside the center on a rotating basis and will be weather dependent.
The theater will not open summer 2020.
If you are exhibiting symptoms of COVID-19, postpone your visit until you are feeling better.
Explore Fairbanks Visitor Information Specialists will be available to connect patrons with visitor industry enterprises including activities, attractions, tours, accommodations and eating and drinking establishments that are open for business or plan to open soon. Alaska Public Lands Information Center Park Rangers will be on hand to advise visitors about outdoor activities and adventures.
To make your visit to the Morris Thompson Cultural and Visitors Center more festive and to encourage locals as well as statewide travelers to get out and "Explore Local," visitors to the Center can pick up Explore Fairbanks' brand new Scavenger Hunt and Photo Contest handout. Contestants hunt noteworthy Fairbanks places and things while taking photos along the way. To be entered into the contest, participants upload photo(s) to the Explore Fairbanks website by July 31, 2020.
Photo contest winners will get prizes and be featured on the Explore Fairbanks website and social media channels. Scavenger Hunt and Photo Contest participants are encouraged to tag images with both #explorelocal and #explorefairbanks.
The Morris Thompson Cultural and Visitors Center will be open daily from 8 a.m. to 5 p.m. All new operations and protocols are subject to change.