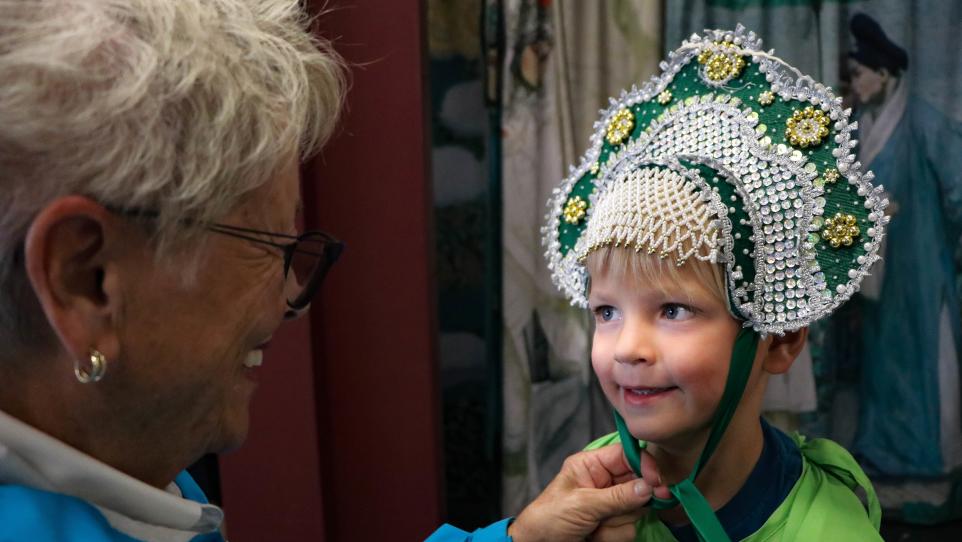 It's an exciting time to visit the Fairbanks Children's Museum
A new exhibit, Children of Hangzhou: Connecting with China, encourages visitors of all ages to discover life in China through the stories of children who live there.
Children of Hangzhou is a highly interactive traveling exhibit that was developed by the Boston Children's Museum. The Fairbanks Children's Museum is one of just ten children's museums in the United States to host this incredible exhibit exploring contemporary Chinese life and culture. ​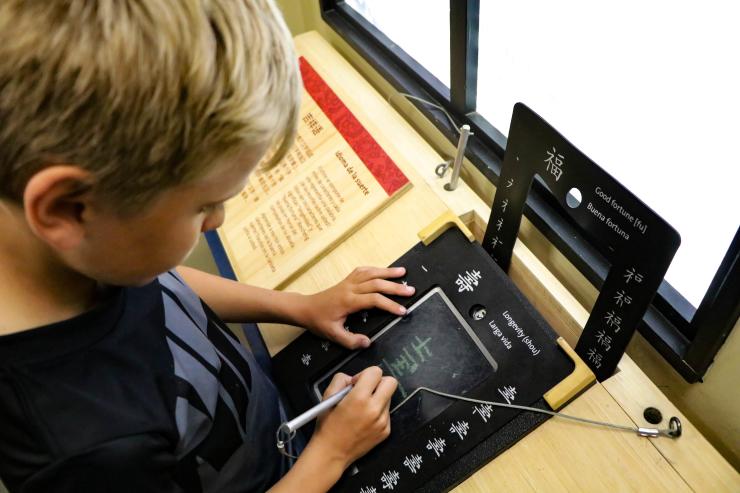 Learn how to write good luck and long life in Chinese at one of the exhibit stations.
Your guides are four Chinese children
Four young people with different interests and talents serve as guides through the exhibition, introducing visitors to important elements of their daily lives in recreated environments based on their real homes, countryside, schools, theatre and city. Through these children and related activities, visitors gain new awareness and understanding of Chinese culture and what it means to be Chinese.
Visitors are first greeted by Doudou and her friendly wave hello. With DouDou, you discover life in the countryside. Children can help plant rice and also learn crafts from her grandmother.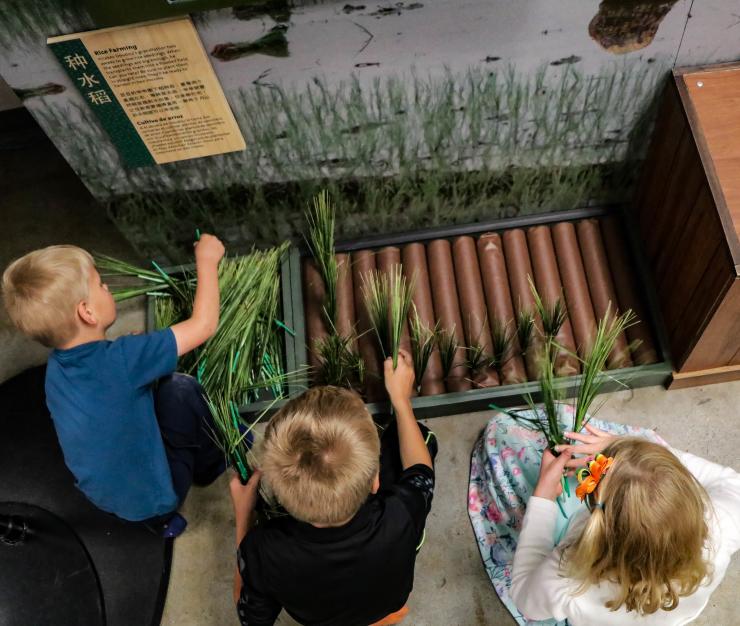 In the countryside, help DouDou's family plant rice and learn all about rice cultivation.
Next, you can move to see what a day in middle school is like with Gangzheng. Sit at school desks and join the class in learning about Ancient Chinese history, learn all about the amazing Great Wall and see how the Chinese written language has evolved over thousands of years.​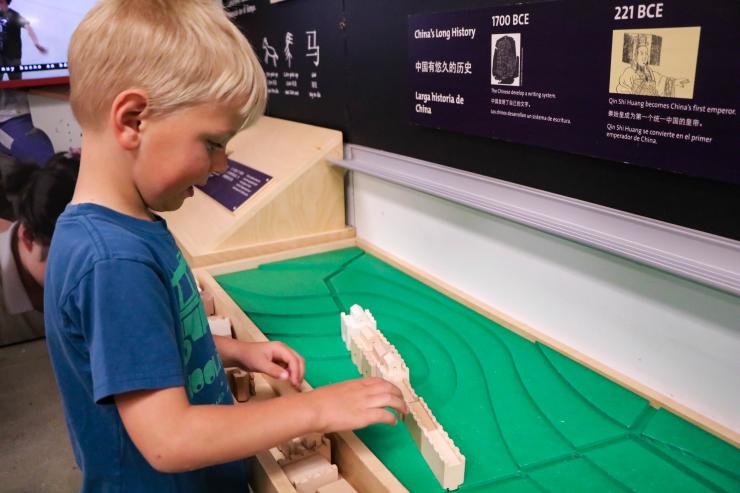 Learn about China's long history and the amazing Great Wall, with original blocks for building it.
At the Opera Theatre, Qianyun is learning how to perform traditional Chinese opera. Children can join in by dressing up in real performance costumes and take the stage following along with a video of dancers. Parents, take a seat because it's Showtime!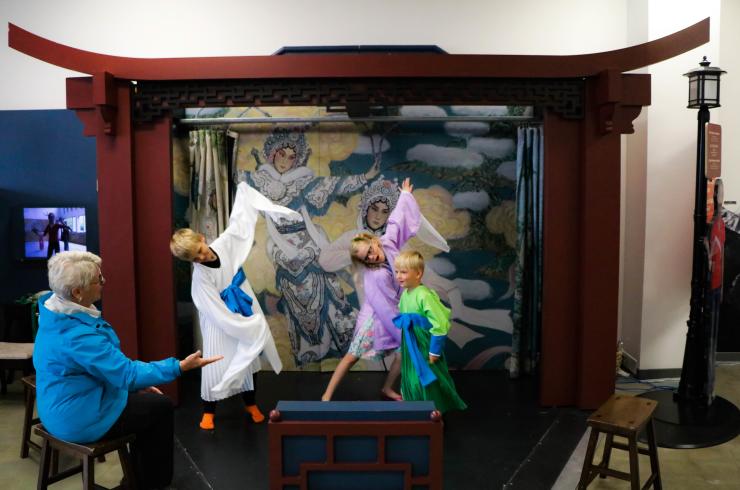 Take to the stage and put on a show at the Chinese Opera Theatre!
Get a taste of the importance of family by next visiting Weicheng's apartment. A well-stocked kitchen serves up a hands-on experience into preparing and eating favorite recipes. Have a seat at the family dining table and enjoy all of the delicious parts of a traditional Chinese meal like duck soup, handmade noodles and yummy soup!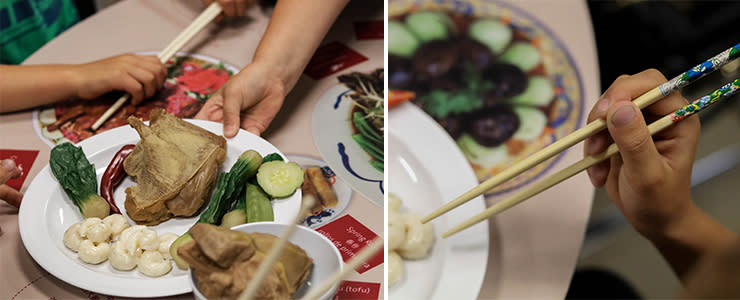 Have a seat at the kitchen table, grab some chopsticks and be prepared to feast!
Next, a stop at the bus station points visitors to the iconic centerpiece of Hangzhou, West Lake.

All aboard! Visit the map at the bus station to explore the city of Hangzhou.
In West Lake, a beautiful Pavillion is like "heaven on earth." At this location, children can practice Tai Chi with a master. It is also a good place to take the time and learn to play the traditional Chinese board game, Wu Zi Qi.

Recreation and relaxation are an important aspect of city life in China.
An exhibit not to be missed
As Deb Hickok, president and CEO of Explore Fairbanks notes, "The Fairbanks Children's Museum has worked hard to host this impressive interactive exhibit that offers a glimpse into the personal values and lifestyles of the 'Children of Hangzhou' to our local residents. With increasing visitation from Chinese guests to Fairbanks, this exhibit helps to create cultural connections through activities and displays that are informative, inspirational and fun."   
While the exhibit is geared toward children, adults can gain new awareness from interacting with the stations as well, and that's just as important. With amazing speed, China has become a global powerhouse. Through the Children of Hangzhou, China is demystified by slowing down and experiencing what living in China is like, and what makes the culture tick. It's powerful, very interesting and we encourage anyone visiting Fairbanks (and locals too!) to visit the Fairbanks Children's Museum for a taste of life in China.
What: Children of Hangzhou: Connecting with China
When: June 27 – September 22, 2018
Where: Fairbanks Children's Museum (website)
Location: 302 Cushman St. - Downtown Fairbanks, Alaska
Hours:

Mondays: Closed
Tuesday – Saturday: 10:00am to 5:00pm
Sundays: 11:00am to 5:00pm

Admission:

$8.00 per person (Ages 1–99)
$7.00 for active duty military and dependents