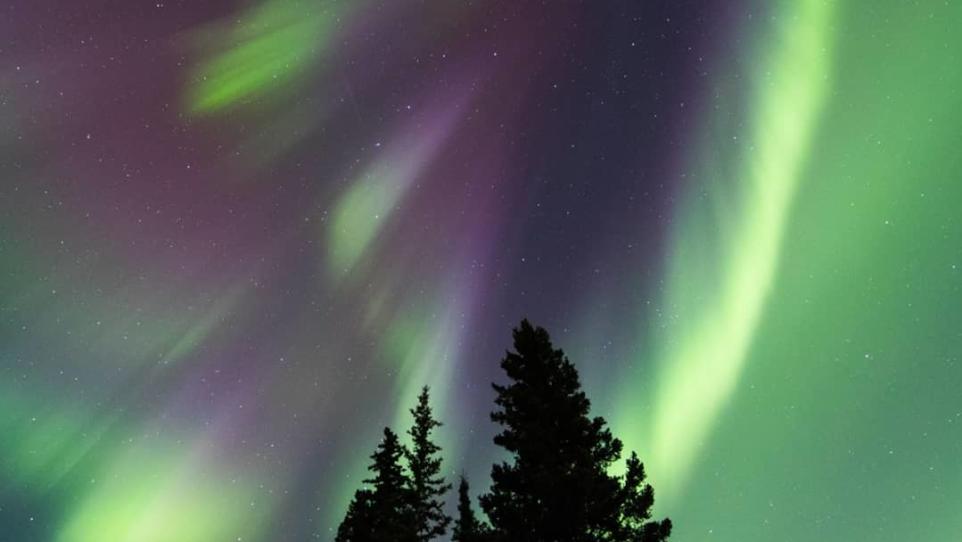 Month by Month
Spanning all four seasons and nine months of the year, Aurora Season runs August 21 through April 21. This year has been hard for everyone, but one silver lining is that the Aurora Season has been outstanding. So many auroras such little time. Follow month by month for Fairbanks Aurora Season 2020-2021 epic highlights. We have selected an image each month that showcases both the lights and the landscape they inhabit. February and March yielded so many solar storms and incredible images that we had to add a few extra shots to those two months. It was hard to decide which spectacular shows and images to include. Hat tip to all the intrepid aurora photographers in Fairbanks- thank you so much for scanning the skies and capturing the northern lights for all to see.
Each season brings different aesthetic offerings. Late Summer and Autumn: In August, September and most of October, people can view the highly sought-after reflective, mirror-image auroras because lakes and rivers haven't frozen and accumulated snow yet. The first few months of Aurora Season also offer mild temperatures so chasing and photographing the lights is less tricky. If you come at the end of August through late September many delightful summertime activities like gold panning or floating the Chena River in a historic riverboat, canoe or on a paddleboard are still available.
Winter: Late October through late March, offers dramatic snowy landscapes. Because we rarely warm to above freezing during Winter Season, the snow simply accumulates creating an iridescent winterscape. The ability to pair awesome activities like ice fishing, dog mushing, flightseeing and soaking in a hot spring while you look towards the heavens for the aurora, is at your fingertips.
Spring: Late March and April offer a melting winter landscape, mild temperatures, fewer visitors and indigo skies which contrast vividly with the northern lights. The northern lights are active 365 days a year but in Fairbanks, the midnight sun dominates the sky towards the end of April as we segue into our 70 straight days of sunlight. As the sky starts to infuse with light there is a long "blue hour" transiting to and from sunsets and sunrises that offers a hue that is sometimes humbling.
Regardless of the time of year you choose to see the lights, Fairbanks is the place to go! Renowned as one of the best aurora viewing places on earth the 2020-2021 Aurora Season was epic by any standard. A bit ironic considering we are supposed to be in the nadir of the 12-year solar cycle which loosely predicts aurora activity. As the Aurora Season comes to a close we want to acknowledge the unusual vortexes, spiking arcs, intense coronas, bright bands, colorful rays and diffuse auroras that have filled the sky frequently over the past nine months bringing joy and inspiring locals and visitors alike.
Thank you, 2020-2021 Aurora Season, for all the jaw-dropping shows. We will soak up some sunshine now but will never stop dreaming of the enchanting lights that will fill the skies again once darkness falls.
Follow us on Instagram for current and past northern lights images and start planning your trip to Fairbanks to chase the northern lights.