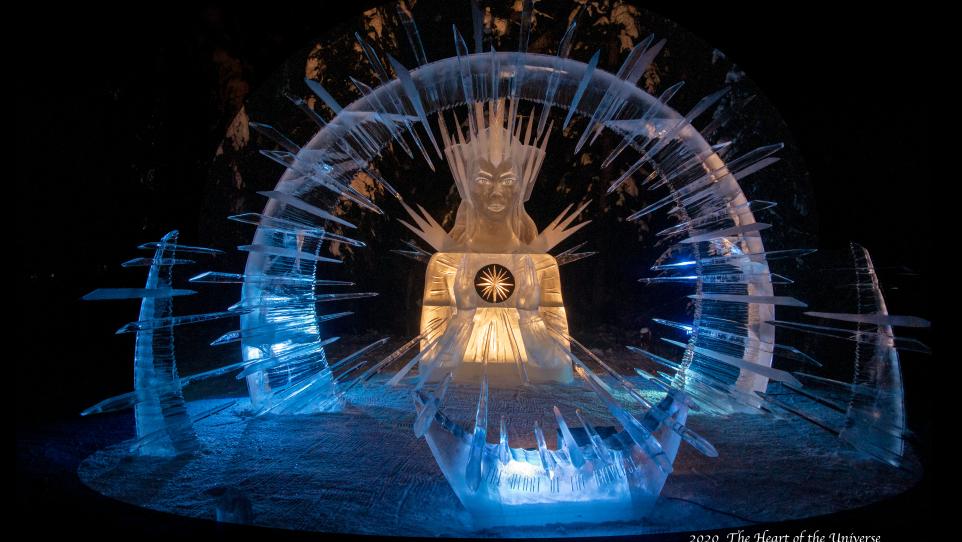 All year long, Fairbanks' Far North locale gives artists the opportunity to create ethereal sculptures out of crystal-clear ice. Residents and visitors alike can watch incredible artworks emerge from locally harvested enormous blocks of "Arctic Diamond" ice that can weigh up to two tons. The sculptures never cease to amaze the most seasoned viewer and at their best rival those wrought from stone. In fact, with so many ice art venues and events to explore, we've summarized them all in this handy how-to guide for viewing ice sculptures in Fairbanks.
---
#1 - World Ice Art Championships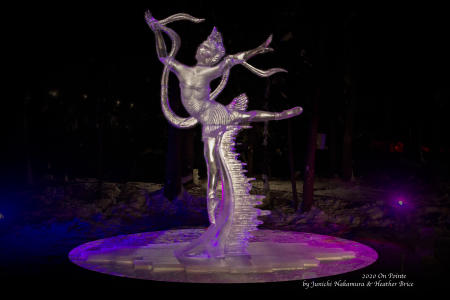 The World Ice Art Championships is celebrating its 31st year hosting one of the largest annual ice art competitions and exhibitions worldwide. The extraordinary ice art created during the competition challenges the mind and inspires the imagination. This year many ice artists are participating with a significant international contingent counting carvers from faraway places like Japan, the Netherlands and Russia.
This remarkable ice event, hosted by Ice Alaska, Inc. since its inception, is located at the Tanana Valley Fairgrounds on College Road. The fairgrounds offer plenty of space and excellent infrastructure. The numerous interactive ice attractions as well as ongoing competitions including the one-person, two-person and multi-block classics will result in over 100 ice sculptures in all. Fanciful dragons, sea creatures, ice mazes, spinning pods and more delight eventgoers during this enticing annual event.
If you go:
---
#2 - Fairbanks Ice Art Park's Ice Sculpture Exhibition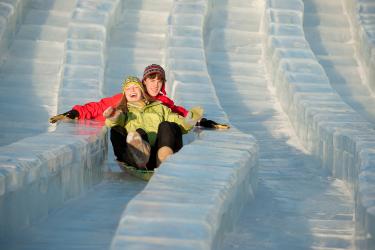 According to park owner Dick Brickley, this attraction celebrates Fairbanks' status as the "Ice Sculpting Capital of the World." It includes kid-friendly mega slides, mazes, houses, a playground and spinners all made from ice harvested from O'Grady Pond next to the park. Concessions and food vendors are also on site. Visitors can observe world-class ice sculptors creating their art. Dancing Lights and Ice invites park visitors to drive through displays set to music.
If you go:
---
#3 - Aurora Ice Museum
This is an indoor experience, but the Aurora Ice Museum at Chena Hot Springs operates year-round. It's the world's largest ice environment created from more than 1,000 tons of ice and snow. It was completed in 2005 and has remained 25 degrees Fahrenheit (minus 4 Celsius) ever since, and parkas are included with admission. Many of the sculptures have endured over the years, but local artists Steve and Heather Brice create new pieces to change out the décor as needed. The entire space is lit in vivid colors that highlight the amazing jousting knights, chandeliers and distinctive orbs that contain flowers and other extraordinary objects. For an extra fee, adults 21 and older can enjoy an appletini served in their own "glass" made entirely of ice.
If you go:
---
#4 - Sculptures around town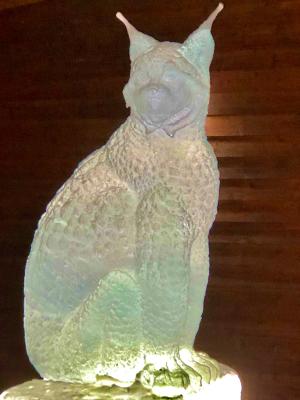 From November through March it's hard not to notice ice sculptures on many street corners and in front of buildings and landmarks all over Fairbanks and the surrounding area. For some locations, it's an annual tradition to commission an ice carver to create a beautiful if only temporary work of art at their place of business. For others, it may be for a special event or festival that calls for an iconic figurine to signify a celebration in progress.
---
#5 - Fairbanks Ice Museum
Located in the Historic Lacey Street Theater in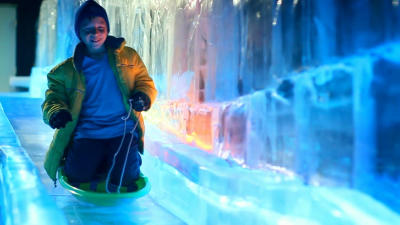 Downtown Fairbanks, this museum is only open during the summer. It includes larger than life ice sculptures on display in a refrigerated chamber. Jackets are provided so visitors can walk in and take pictures. There's even an indoor ice slide for the young and young at heart. Featured artists work on sculptures and demonstrate their process with live narration. The comfortable seating area is a great place to cool off on a hot summer day.
If you go:
---
Whatever the occasion, locals and visitors alike benefit from a location where ice art is both remarkable and commonplace!