The 2020-21 Fairbanks Winter Guide is now available for free. The 24-page, full-color booklet is designed to help plan vacations during the winter season. Filled with open winter businesses including accommodations, attractions, adventures, tours and action-packed things to do, the guide presents an enticing view of winter in Alaska's Interior and Arctic. The Guide offers ways that you can explore Fairbanks responsibly while traveling in the time of COVID-19 information as well as "Know Before You Go" resources.

Use our 2020-21 Fairbanks Winter Guide to plan an unforgettable winter expedition in this sparkling land of ice and snow. In Fairbanks, travelers can see how nature rules and people thrive in our little river city deep in the wilds of pristine Alaska. Challenge the snowcapped hills or birch-laden trails, mush a team of huskies across the wilderness and see two-ton blocks of ice being turned into works of art. Journey above the Arctic Circle, visit Santa in North Pole or discover the warmth of an Alaska hot spring at the end of an adventure-filled day.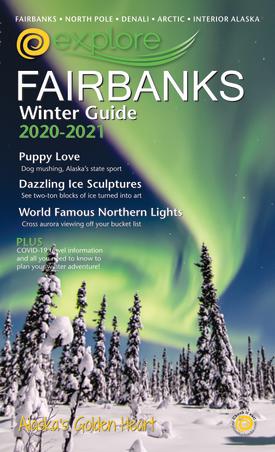 In addition to a beautiful cover photo by Vinh Do, this years' guide is bursting with information about the northern lights. Fairbanks has outstanding aurora viewing since it is under the "Auroral Oval," a ring-shaped zone over the far north where aurora activity is concentrated. Plus, Fairbanks' low precipitation, meager light pollution and distance from coastal areas all contribute to consistently clear, dark nights which are ideal for aurora chasing. For chances of seeing the northern lights check out the Aurora Tracker that uses data from the University of Alaska Fairbanks' Geophysical Institute, weather and amount of daylight for multiple locations in and around Fairbanks.
Also listed in the guide are winter activities and events including skiing, ice skating, ice sculpting, ice fishing, snowmobiling, snowshoeing, dog mushing, fat tire biking, hiking, curling and ice hockey. Indoor attractions include several museums, art galleries, shops with made-in-Alaska items, aurora viewing locations, a visitors center and more.
Listings also include numerous cafes, breweries and distilleries offering local epicurean delights.
For a free copy of the 2020-21 Fairbanks Winter Guide, contact Explore Fairbanks at 1-800-327-5774 or (907) 456-5774 or write to 101 Dunkel Street, Suite 111, Fairbanks, Alaska 99701-4806. You can also order the guide or view it interactively online.
Due to COVID-19 please confirm all aspects of your trip prior to embarking.
The Winter Guide is an invitation to Imagine Yourself Here and Explore Fairbanks Responsibly.