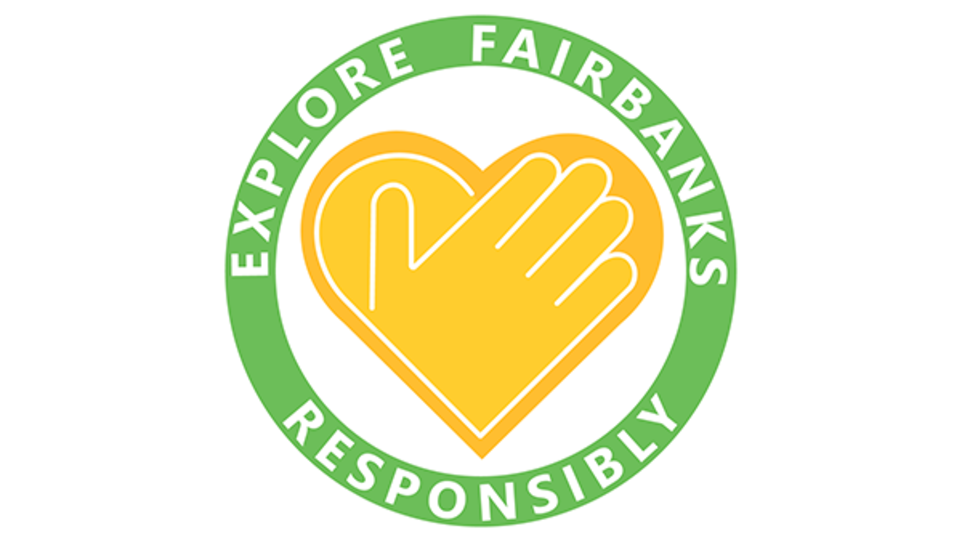 Fairbanks is open for business! As the visitor industry and our community continue to navigate the COVID-19 environment, ensuring that proper health and safety protocols are in place to help make our employees, guests and residents safe is our top priority. Vibrant businesses, including activities, restaurants, attractions and shops are safely operating and ready to welcome visitors to the Golden Heart of Alaska.
---
Explore Fairbanks Responsibly Pledge

Look for this badge throughout our website to see businesses that have taken the "Explore Fairbanks Responsibly" Pledge.
Learn more about the Pledge by clicking here.
---
Current Guidelines on Traveling to Fairbanks for Non-Residents of Alaska
NEW! Effective June 1, any visitors to Alaska that are 12 years or older are eligible to receive a vaccine at clinics in airports in Fairbanks, Anchorage and Juneau. The Fairbanks International Airport is offering the Pfizer vaccine between the hours of 9 a.m. and 5 p.m. Monday, Wednesday, Thursday and Friday. And 12 p.m. to 8 p.m. on Tuesday, Saturday and Sunday. Vaccines are offered by pre-registering for a two-hour time window designed to accommodate fluctuating travel schedules or through walk-up appointments. Appointments are available through the Alaska Safe Travels app at www.alaska.covidsecureapp.com.
The State of Alaska does not currently have any restrictions for non-resident travelers coming to the state.  However, it is recommended that travelers:
Read the available information about safely traveling to Alaska at covid19.alaska.gov and covid19.alaska.gov/faq
Complete the optional Safe Travel Travels Form via the Alaska Travel Portal at www.alaska.covidsecureapp.com. This travel information hub allows travelers to do the following optional items: 1) request a free COVID-19 test upon arrival, 2) request a free COVID-19 vaccination upon arrival to Alaska, and 3) upload COVID-19 test results.
Take an optional second test between 5 and 14 days after arrival. Click here for a listing of testing centers available in Fairbanks.
Travelers also need to continue to follow any federal or community requirements that might be in place as well as any requirements that might be in place with tour companies and businesses. For more information visit the State of Alaska COVID-19 information for travelers at https://covid19.alaska.gov/travelers/
Federal mandate currently requires that passengers must wear a mask at ALL times that covers both the nose and the mouth when awaiting, boarding, traveling on, or disembarking airplanes as well when entering or on the premise of an airport. Click here for FAQs and more information, as well as a list of exemptions.
Important notice to international passengers: All international passengers traveling to the United States must arrive with a negative test, which can either be antigen or molecular. Click here for more information.
The Fairbanks International Airport is currently serviced by four different carriers—Alaska Airlines, American Airlines, Delta Air Lines, and United Airlines.  Links to their COVID-19 passenger travel information.
The Fairbanks North Star Borough (FNSB), which includes the cities of Fairbanks and North Pole, does not have any mandates in place regarding mask wearing. However, certain businesses and tour companies may require guests to wear masks.
Visitors to Fairbanks are encouraged to do the following:
If not already vaccinated, get a free vaccination at the Fairbanks International Airport as indicated above.
Wash your hands frequently and wipe down high-touch surfaces.
Practice social distancing by staying at least six feet away from others.
Wear a face covering while indoors and whenever social distancing is challenging.
If a traveler is planning to go to other locations in Alaska either before or after their time in Fairbanks, please note that those communities might have their own mandates in places. More information on those communities can be found here: https://covid19.alaska.gov/local-borough-resources/
On February 14, 2021, the State of Alaska issued Health Advisory 3, which offers up further guidelines for traveling within Alaska. Read the advisory here:  https://covid19.alaska.gov/wp-content/uploads/2021/02/02.14.21-Health-Advisory-3-Intrastate-Travel.pdf
STAY SAFE ON YOUR TRAVELS TO AND THROUGHOUT ALASKA.
THE MIDNIGHT SUN, NORTHERN LIGHTS AND ALASKA'S GOLDEN HEART AWAIT YOU IN FAIRBANKS.