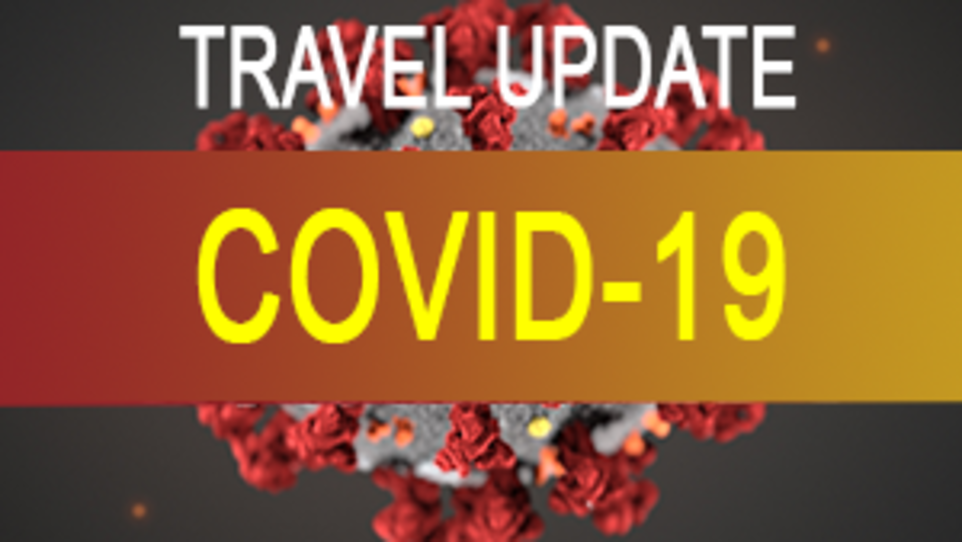 Updated August 31 at 8:00 a.m.
As we closely monitor the rapidly changing COVID-19 outbreak, we wanted to relay to you, our residents and visitors, that your health and safety remain our top priority.
---
Current Status in Alaska
As of Friday, May 22, 2020, Phase Three of the "Reopen Alaska Responsibly Plan" took effect, allowing all businesses to open at 100 percent capacity.
Check out the PDF list of Fairbanks businesses currently open.
Businesses are adhering to State of Alaska guidelines and modifying their operations and open hours as necessary. Although the list is regularly updated, it is encouraged to contact businesses directly to confirm their status prior to a visit to any establishment. Look out for resident and military discounts.
---
New Interstate Travel Protocols began on August 11
State of Alaska revised travel protocols
Revised State of Alaska travel protocols to prevent the spread of COVID-19 and conserve testing resources took effect next Tuesday, August 11 at 12:01 a.m. The revised State of Alaska Health Mandate 10 and an FAQ are available at covid19.alaska.gov.

The mandate applies to all travelers arriving into Alaska, no matter how they enter the state. Children under 11 will continue to be exempt from testing requirements.

The most significant revision to the mandate is that nonresident travelers may no longer obtain a COVID-19 test for free upon arrival into Alaska at the state's airport testing sites. Nonresidents will also no longer have the option for a 5-day pretest or the option to self-quarantine for 14 days after arriving into the state.

Details of the revision were announced in an August 6 press release from DHSS and are as follows:

For all travelers (resident and nonresident):
Complete a Travel Declaration Form and Self-Isolation Plan in the Alaska Travel Portal.
All travelers with negative results must still follow strict social distancing for 14 days after arriving into the state or until the traveler receives a second negative test result from a test taken 7-14 days after arrival.
The five-day pretest option is no longer available for any travelers.
For nonresident travelers:
Test 72 hours before departure.

Upload negative results into the Alaska Travel Portal or have results available to show screeners at the airport.
If still awaiting results by arrival time, travelers will need to upload proof of a test taken into the Alaska Travel Portal or show that proof of a test taken to an airport screener and self-quarantine, at their own expense, while waiting for results. The results must be uploaded into the portal when received.

If a nonresident arrives without a pre-test, testing is available at the airport testing site for $250 per test. The traveler will be required to quarantine while waiting on results.
The 14-day quarantine option is no longer available for nonresident travelers.
For Alaska resident travelers:
Test 72 hours prior to departure, with the same rules as listed for nonresidents.

Testing at arrival remains available at no cost to Alaska residents.

The 14-day quarantine option is still available to Alaska residents.
Alaska residents traveling within the state will now have the option of free testing at the airport sites, to prevent bringing the virus into our small communities.
Proof of Alaska residency can be shown with one of the following:

Alaska driver's license or state-issued ID card.
Federally recognized Alaska Tribal identification card.
Active duty military ID card or active duty dependent ID card.
Employment verification letter on employer letterhead or school verification letter for in-person schooling stating traveler is moving to Alaska for employment or school.
For critical infrastructure employees:
Travel that is deemed essential or for critical infrastructure, as previously defined in Health Mandate 10, will continue as it has under existing guidance.
Critical infrastructure workers traveling to Alaska will no longer be able to use state-funded testing at airports.
Critical infrastructure companies and organizations will be asked to provide employees with a letter on company letterhead that states they are a critical infrastructure worker traveling for work purposes. These letters must include travel plans and confirm that the traveler is following the employer's Community Workforce Protect Plan on file with the state that includes testing and/or quarantine provisions.
More information will be posted at covid19.alaska.gov as soon as it becomes available. People can preview the new Alaska Travel Portal at alaska.covidsecureapp.com
---
3 Mayor Proclamation encourages the wearing of cloth face-covering/mask
Borough Mayor Bryce Ward, City of Fairbanks Mayor Jim Matherly, and City of North Pole Mayor Michael Welch recently signed a proclamation encouraging the community to wear a cloth face covering or mask. Read the proclamation here.
---
Intrastate Travel
As of May 12, 2020, in accordance with Health Mandate 18 intrastate travel between communities on the road system or the Marine Highway System is permitted for all purposes. Travelers may travel between the road system and Marine Highway System communities via any normal means of transportation, including vehicle, boat, ferry, aircraft and commercial air carrier.
Intrastate travel between communities located off the road system or the Marine Highway System Is permitted, but subject to local travel restrictions.
---
Health Resources
We recommend keeping up with the most current information on the virus via:
CDC Public Safety and Health Reminders
We urge everyone to adhere to the health practices recommended by the CDC
Take steps to protect yourself
Clean your hands often
Wash your hands often with soap and water for at least 20 seconds especially after you have been in a public place, or after blowing your nose, coughing, or sneezing.
If soap and water are not readily available, use a hand sanitizer that contains at least 60% alcohol. Cover all surfaces of your hands and rub them together until they feel dry.
Avoid touching your eyes, nose, and mouth with unwashed hands.
Avoid close contact
Avoid close contact with people who are sick
Put distance between yourself and other people if COVID-19 is spreading in your community. This is especially important for people who are at higher risk of getting very sick.
Take steps to protect others
Stay home if you're sick
Stay home if you are sick, except to get medical care. Learn what to do if you are sick.
Cover coughs and sneezes
Cover your mouth and nose with a tissue when you cough or sneeze or use the inside of your elbow.
Throw used tissues in the trash.
Immediately wash your hands with soap and water for at least 20 seconds. If soap and water are not readily available, clean your hands with a hand sanitizer that contains at least 60% alcohol.
Wear a face mask in public places
CDC recommends wearing cloth face coverings in public settings where other social distancing measures are difficult to maintain (e.g., grocery stores and pharmacies), especially in areas of significant community-based transmission.
CDC also advises the use of simple cloth face coverings to slow the spread of the virus and help people who may have the virus and do not know it from transmitting it to others.  Cloth face coverings fashioned from household items or made at home from common materials at low cost can be used as an additional, voluntary public health measure.
Cloth face coverings should not be placed on young children under age 2, anyone who has trouble breathing, or is unconscious, incapacitated or otherwise unable to remove the mask without assistance.
The cloth face coverings recommended are not surgical masks or N-95 respirators.  Those are critical supplies that must continue to be reserved for healthcare workers and other medical first responders, as recommended by current CDC guidance.
Clean and disinfect
Clean AND disinfect frequently touched surfaces daily. This includes tables, doorknobs, light switches, countertops, handles, desks, phones, keyboards, toilets, faucets, and sinks.
If surfaces are dirty, clean them: Use detergent or soap and water prior to disinfection.
---
Stay safe and keep dreaming of Alaska.
The midnight sun, northern lights and Alaska's Golden Heart await you in Fairbanks.