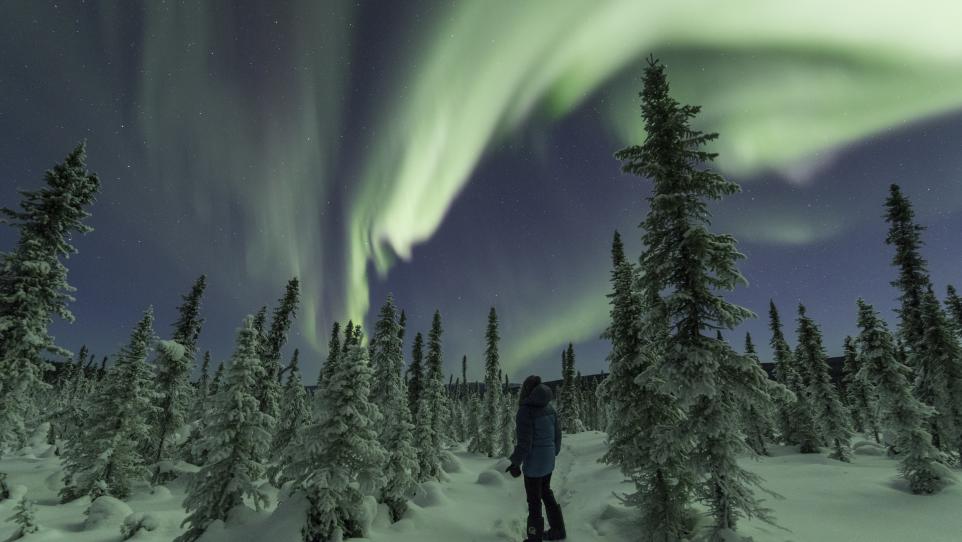 What do walrus heads, warriors and dragons all have in common? They all play a role in the mythos surrounding the aurora borealis. Nowadays we look to the heavens and know that electrons from space are colliding with nitrogen and oxygen gases in the sky to create ethereal auroras in greens, reds, pinks and blues. But in the days of yore peoples would craft fantastic stories about what was occurring in the night sky. Here in Alaska, the most well-known aurora legend told by the indigenous people of the Arctic is that the northern lights were spirits of the dead playing ball with a walrus head. Northern European Norse mythology indicated that the aurora were the spirits of valiant warriors ascending a fire bridge into the heavens. In Asian lore, the northern lights were thought to be good and evil dragons battling each other in the sky. These powerful myths reveal how people were, and still are, awe inspired by the aurora weaving across the night sky.
During Aurora Season, from August 21 to April 21, Fairbanks is one of the best places on earth to see the northern lights. Far away from the madding crowds, with minimal light pollution, meager amounts of precipitation and positioned in a most advantageous location directly under the "Auroral Oval" (where aurora activity is concentrated), Fairbanks is a divine destination for northern lights viewing.
Fairbanks' world-famous northern lights lure aurora chasers from around the world. Such is the case with University of Alaska Fairbanks (UAF) physics student Andy Witteman. Andy is so passionate about the aurora that he lives to study, photograph and chase the northern lights. When he discovered UAF's Geophysical Institute was the foremost research center for auroral studies in North America he knew that Fairbanks, Alaska, was where he wanted to follow his dreams. This Aurora Season we are partnering with Andy to showcase a few of his brilliant real time and time lapse aurora videos for those who choose to armchair travel until the time is right. Andy says, "For anyone with an adventurous spirit, the northern lights can become an obsession bringing you to the edges of the world! Big auroras can happen on nights which are seemingly quiet, and cloudy nights can break up just enough to let the purples and greens rain down from the stars!"
To assist visiting aurora chasers, Explore Fairbanks built the one-of-a-kind Aurora Tracker. The Aurora Tracker correlates three individual streams of data to predict northern lights viewing opportunities for six locations in the Fairbanks region. Data streams include: aurora forecast data from the Geophysical Institute, weather forecast data for specific northern lights viewing locations and the amount of daylight hours. The aurora will be visible in Fairbanks an average of four out of five nights when the sky is clear and dark enough. Visitors who stay a minimum of three nights and are actively out during the late evening hours increase their chance of seeing the aurora to more than 90 percent.
Spanning all four seasons and nine months of the year, Aurora Season has arrived. Due to the fact that natural phenomena are unscathed by viruses, locals are still chasing the aurora and have developed ways to safely assist visitors in this pursuit. Whether you want to virtually engage in northern lights viewing or you want to plan to see them in person, Explore Fairbanks is at your service.
On Explore Fairbanks website you will find a current Downloadable PDF list of local accommodations, attractions and tours as well as eating and drinking establishments that are "Open for Business."
As you make your travel plans to Fairbanks, find up-to-date information about Alaska's COVID-19 travel restrictions, including testing requirements, pinned to the top of Explore Fairbanks home page. With careful planning and precautions, including mask wearing, social distancing and hand sanitation, we invite you to come "Explore Fairbanks Responsibly" and make your aurora viewing wishes come true.
Find out about the above and more at www.explorefairbanks.com. For specific questions, email info@explorefairbanks.com.
###
About Explore Fairbanks
Explore Fairbanks is a non-profit marketing and management organization whose mission is to be an economic driver in the Fairbanks region by marketing to potential visitors and optimizing the visitor experience. Explore Fairbanks markets Fairbanks as a year-round destination by promoting local events, attractions and activities to independent travelers, group tour operators, travel agents, meeting planners and the media as well as by developing public policy and infrastructure to achieve marketing objectives. Explore Fairbanks encourages travelers to "Explore Fairbanks Responsibly." Find out more at explorefairbanks.com.