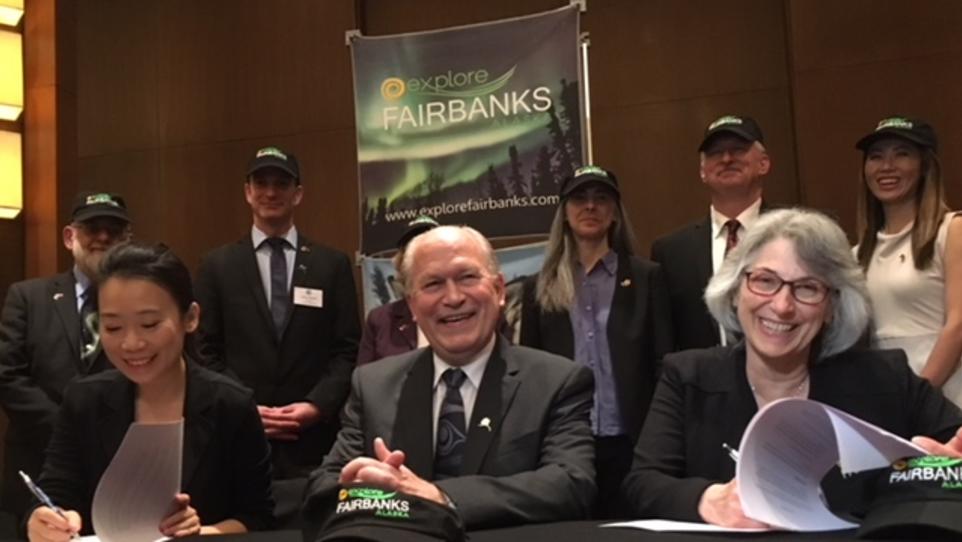 For Immediate Release: May 24, 2018
Fairbanks, Alaska (AK) – Explore Fairbanks President and CEO Deb Hickok signed a contract with China-based East West Marketing Corp. on Thursday, May 24, 2018 at the Grand Hyatt Beijing at Oriental Plaza, Beijing, China.
The firm will represent Explore Fairbanks in the rapidly growing China to Alaska outbound tourism market. The contract was finalized during Governor Bill Walker's "Opportunity Alaska" from May 19 through 30, 2018. Hickok was a participant.
In addition to Hickok, present at the contract signing was Governor Walker as well as Zhenzhen Tan, public relations manager, East West Marketing and Jeff Roach, manager, Fairbanks International Airport. Also present were other participants of the "Opportunity Alaska" China Trade Mission to include Adriel Butler, owner of Borealis Basecamp and member of the Explore Fairbanks Board of Directors; Bernie Karl and Connie Parks-Karl, co-owners, Chena Hot Springs Resort; Juliet Shepherd, technology-led development project manager, Fairbanks Economic Development Corporation; and Jin Chen, chief operating officer, Alaska Skylar Travel.
"This contractual relationship between Explore Fairbanks and East West marks another quantum leap for tourism from China to Alaska and for cultural exchange among our citizens," said Walker.
"We are thrilled to have a firm of East West Marketing's caliber represent us in this important market," said Hickok. "We've seen significant growth from China over the last few years, primarily due to our reputation as an aurora destination from the period of August 21 to April 21, and having this on-the-ground representation in the market will help us build on that success."
"We are honored and proud to represent Explore Fairbanks and share its unique canvas for the aurora borealis and midnight sun with the Chinese market," said Alina Xiang, President and CEO of East West Marketing. "The Chinese visitor mix is changing with a majority of tourists now fully independent travelers (FIT) and seeking unique personal travel experiences. Fairbanks offers visitors a fascinating opportunity to experience the northern lights and create a lasting travel memory. Plus, the city's diverse mix of natural wonders and charming river city give visitors a reason to extend their stay. We are eager to share Fairbanks' story."
Among East West's services for Explore Fairbanks will be to conduct sales calls and develop travel trade relations in China's major cities, coordinate tourism sales missions for Explore Fairbanks and Alaska visitor industry partners, provide airline development support, assist with planning familiarization tours for China-based travel trade and media to come to Fairbanks, and conduct marketing campaigns through China social media channels.
Explore Fairbanks is the first destination marketing organization in Alaska to have travel trade representation in the China market.
###
About Explore Fairbanks
Explore Fairbanks is a non-profit marketing and management organization whose mission is to be an economic driver in the Fairbanks region by marketing to potential visitors and optimizing the visitor experience. Explore Fairbanks markets Fairbanks as a year-round destination by promoting local events, attractions and activities to independent travelers, group tour operators, travel agents, meeting planners and the media as well as by developing public policy and infrastructure to achieve marketing objectives. Find out more at explorefairbanks.com.
About East West Marketing Corp.
Founded in 1996, East West Marketing is an award-winning tourism market agency, proudly serving over 30 clients globally. EWM recognized China's evolving and flourishing outbound tourism market and set out to become a bridge between the world and China. With central offices in Beijing, Shanghai, Guangzhou, Chengdu and Taipei, EWM has a deep understanding of the travel trade and media landscape, we develop customized and impactful, in-market strategies with real results. With a passion for travel, it is our mission to further develop China's outbound travel market and introduce Chinese travelers to the beauty of the world. Find out more at Eastwestmarketing.cn
About the "Opportunity Alaska" China Trade Mission
The State of Alaska is leading a trade and investment mission to the People's Republic of China from May 19-30, 2018. Governor's Office of International Trade (OIT) and the Department of Commerce, Community & Economic Development (DCCED), in cooperation with the People's Republic of China, the U.S. Embassy Beijing and the U.S. Foreign Commercial Service, is coordinating business-to-government and business-to-business meetings, networking opportunities, events, and market briefings to promote Alaska companies in China. The delegation includes fisheries, tourism, and investment businesses, as well as a baby food maker, an architecture firm, and a university.
FOR MEDIA CONTACTS ONLY:
Deb Hickok                                                                             Scott McCrea
President and CEO                                                                 Director of Tourism
(907) 322-4310                                                                       (907) 460-1193