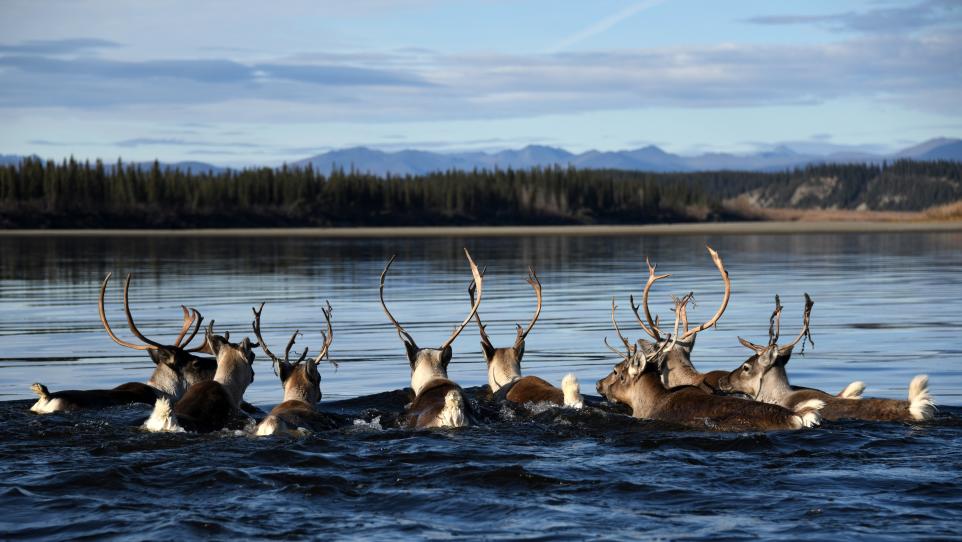 For Immediate Release: July 23, 2020. 
Fairbanks, Alaska (AK) – In Alaska's Interior and Arctic, the caribou far outnumber the people. In fact, according to Alaska Department of Fish and Game's Bob Hunter, there are almost five caribou to every one human in Alaska's Interior and Arctic. These two immense, far north regions of Alaska are home to just over 137,000 souls and over 645,000 majestic caribou. "A tally of those caribou herds residing primarily in the Interior and Arctic areas comes to 645,687 based on the most recent survey numbers available," Hunter states. These numbers prove to be an impressive indicator of how untamed and sparsely populated Alaska's Interior and Arctic remain.
Heralding the lowest population density in the United States of America, here a modicum of social distancing has long been a way of life. In Alaska's Interior and far north, the buffer between you and the next person was substantial prior to COVID-19, so adding a foot or two to get to six feet apart has been quite manageable. In Fairbanks, travelers can see how nature rules and people thrive in a small river city deep in the wilds of Alaska. Keep track of the State of Alaska's travel requirements on the government site, sanitize your hands and don your mask. With careful planning and testing, responsible travelers may embark on a journey to the land of the midnight sun and the aurora borealis. Or sit tight and savor a virtual view of what Fairbanks has to offer via Explore Fairbanks' online videos and 360-degree content and imagine yourself here until traveling becomes more amenable again.
Fairbanks has many outdoor and/or spacious venues, activities, attractions, tours and eating and drinking establishments that have thoughtfully re-opened for business. Visit Explore Fairbanks' website for a current "Open for Business" list, including their steps taken to help travelers have a safe experience.  Visit a vibrant farmers market, get lucky panning for gold, relish all the art in and around Fairbanks or head a few miles out of town to hike one of many maintained trails through boreal forests and view spectacular landscapes.
As the summer progresses, the 24 hours of light will dissipate and under the veil of darkness the aurora borealis, like magic, will become visible again. Fairbanks is a world-famous aurora viewing destination because of its location directly under the "Auroral Oval" where northern lights activity is concentrated. Spanning all four seasons and nine months of the year, Aurora Season in Fairbanks runs August 21 through April 21. Due to the fact that natural phenomena are unscathed by viruses, locals will soon be chasing the aurora and are currently developing ways to safely assist visitors in this pursuit. Whether chasing the northern lights is an unfilled dream, or something that you can't get enough of, with careful precautions Fairbanks can make your aurora viewing wishes come true.
Find out about the above and more at www.explorefairbanks.com. For specific questions, email info@explorefairbanks.com.
###
About Explore Fairbanks
Explore Fairbanks is a non-profit marketing and management organization whose mission is to be an economic driver in the Fairbanks region by marketing to potential visitors and optimizing the visitor experience. Explore Fairbanks markets Fairbanks as a year-round destination by promoting local events, attractions and activities to independent travelers, group tour operators, travel agents, meeting planners and the media as well as by developing public policy and infrastructure to achieve marketing objectives. Find out more at explorefairbanks.com.