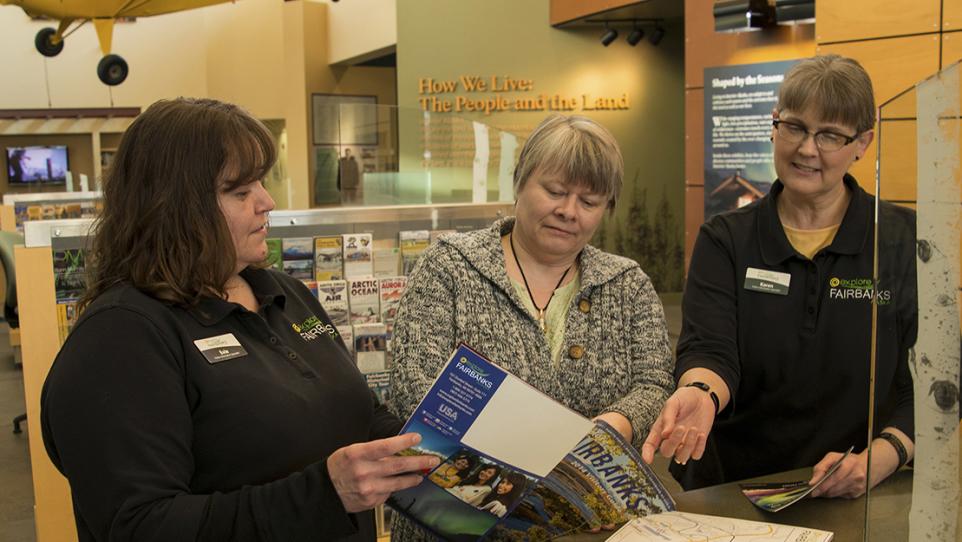 Fairbanks, Alaska (AK) – The Tourism Works for Fairbanks Job Fair, part of the Annual Interior Tourism Conference, will be held on Wednesday, January 23, 2019 from 3:45 p.m. to 6:00 p.m. in the Gold Room at the Westmark Fairbanks Hotel and Conference Center. The job fair is free and open to the public. Interested job seekers ages 16 and up are encouraged to attend and learn about fun and challenging winter and summer jobs. The Tourism Works for Fairbanks Job Fair is sponsored by Explore Fairbanks and Northern Alaska Tour Company.
"The job fair is a great one-stop shopping opportunity for people of all ages and skill levels to get a jump on applying for employment in the visitor industry," said Kathy Hedges, co-sponsor and Explore Fairbanks Board Chair. "Many local companies hire people who have applied for positions while attending the event."
Applicants can meet with hiring managers from local tourism businesses and find out about different kinds of jobs in tourism. Resumes are welcome and applications can be completed onsite. Free customer service classes will also be provided during the event.
Registration for the Annual Interior Tourism Conference is now open. Explore Fairbanks will host this community event which covers a wide variety of topics related to the visitor industry. Registration is online through Friday, January 18, 2019 at www.explorefairbanks.com/itc. Registration options include Full Conference $75; Lunch with Keynote Address $25; and Student Registration $20 (must have current student ID).
This year's Interior Tourism Conference guest speaker is Dr. Coyte Cooper, a bestselling author, international speaker and performance coach who is one of the premier experts in the area of leadership and maximizing human potential. Dr. Cooper has worked closely with thousands of proactive professionals the past few years to develop a unique transformational system that helps audience members radically enhance their clarity, focus, energy, motivation, passion and results on a consistent daily basis.
Answers to registration questions and further information are available by contacting Charity Gadapee at cgadapee@explorefairbanks.com or Jesse Pfeffer at jpfeffer@explorefairbanks.com.