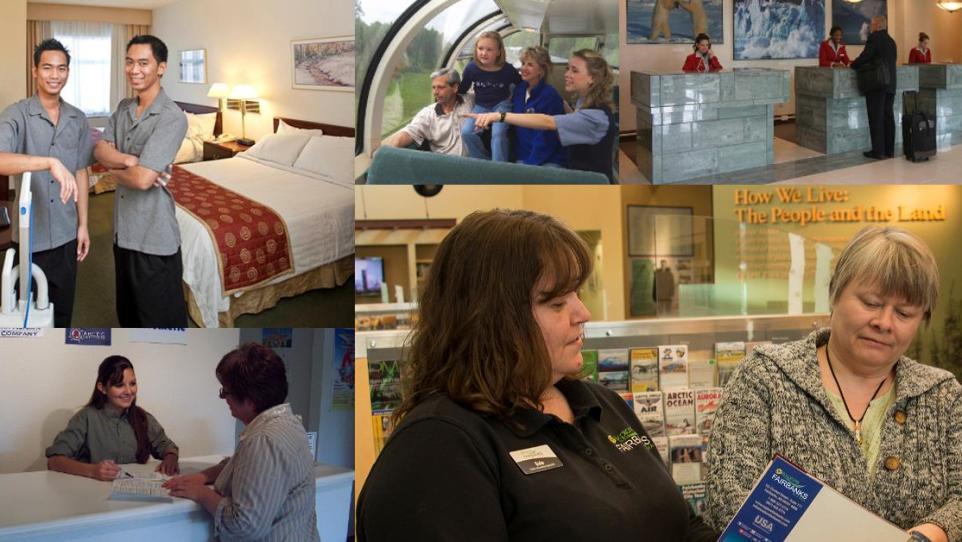 Fairbanks, Alaska (AK) – Registration is now open for the 11th Annual Interior Tourism Conference that will be held on Wednesday, January 24, 2018, at the Westmark Fairbanks Hotel and Conference Center. Explore Fairbanks will host this community event which covers a wide variety of topics related to the visitor industry including a State of the Industry update; Cruise Development update; Convention Center and Performing Arts Center update and Working with the China Market. Registration is online through Friday, January 19 at www.explorefairbanks.com/itc.
Immediately following the Interior Tourism Conference is the Tourism Works for Alaska Job Fair. The job fair is free and open to the public from 3:45 p.m.-6:00 p.m. in the Gold Room at the Westmark Fairbanks Hotel and Conference Center. Meet with hiring managers from 11 local tour businesses. Find out about different kinds of jobs in tourism and bring a resume or fill out an application onsite. Interested job seekers are encouraged to attend and learn about fun and challenging winter and summer jobs. Free customer service classes will be provided during the event. The job fair is sponsored by Explore Fairbanks, 1st Alaska Tours and Northern Alaska Tour Company.
This year's Interior Tourism Conference guest speaker is Sandee Jordan. She will share techniques to take a business' digital marketing plan to the next level with a mix of new and traditional strategies designed to encourage engagement, build influencers and grow a business' online audience. Research shows that incorporating user-generated content not only keeps the business in touch with its audience, it also can lead to stronger organic traffic performance.
Registration options include Full Conference $75; Lunch with Keynote Address $25; and Student Registration $20 (must have current student ID). The conference is sponsored by Cruise Lines International Association Alaska.
Answers to registration questions and further information are available by contacting Charity Gadapee at cgadapee@explorefairbanks.com or Jesse Pfeffer at jpfeffer@explorefairbanks.com.
###
About Explore Fairbanks
Explore Fairbanks is a non-profit marketing and management organization whose mission is to be an economic driver in the Fairbanks region by marketing to potential visitors and optimizing the visitor experience. Explore Fairbanks markets Fairbanks as a year-round destination by promoting local events, attractions and activities to independent travelers, group tour operators, travel agents, meeting planners and the media as well as by developing public policy and infrastructure to achieve marketing objectives. Find out more at explorefairbanks.com.